Restaurants and Dining in the Turks and Caicos
By Island
The Best Restaurants in Turks and Caicos
The Turks and Caicos is an excellent vacation destination for foodies, and an entire spectrum of cuisines and flavors can be found in our restaurants.
Providenciales is the undeniable center of dining in the country, yet our smaller islands and cays each offer a unique perspective as well.
The various islands in the Turks and Caicos differ greatly in restaurant and dining offerings. If you know which of our islands you'll be visiting, check out our island-specific dining guides.
Gourmet and Fine Dining
The dining situation in the Turks and Caicos has evolved quite a bit over the last few decades, and there's a wide selection of cuisines and elegant venues to choose from.
Providenciales supports a vibrant gourmet scene, with over sixty restaurant options. The majority of these locations are found in the tourism region of Grace Bay, yet there are outliers at some of the secluded resorts as well. With the influx of luxury tourism, many restaurants have evolved a delicious fusion of international tastes and local seafood dishes.
It's commonly said that San Francisco is the city with the most restaurants per household in the United States (at 39.3 restaurants per 10,000 households). However, the Turks and Caicos Islands easily surpasses the Fog City with a ratio of 74.6 restaurants per 10,000.
A restaurant is nothing without a top chef, and many of the establishments on Providenciales are headed by internationally recognized and award-winning chefs.
For the traditionalists, authentic Japanese, Italian, French, Mediterranean, Moroccan, Thai, Indian, Jamaican, and many other restaurants await as well.
Restaurants typically stock a great complement of wine and alcohol of wide origins and vintages.
Special requests and diets will often be accommodated by local restaurants. We advise making inquiries in advance of visits, so the kitchen can ensure that appropriate ingredients are available.
Catch Your Dinner
A great vacation experience is to go deep sea sport fishing, and have a local restaurant prepare the catch. Local fish includes yellowfin, bluefin and blackfin and skipjack tuna, mahi-mahi, wahoo, and mackerel. If you'd rather try your hand at reef fishing, Nassau grouper, and red, mutton and yellowtail snappers are also excellent eating.
Local Cuisine and Flavors
Before the tourism industry took off in the Turks and Caicos, the common fare to the country tended to use rather humble ingredients. Even considering this, a unique and tasty fare developed. Seafood such as queen conch, fish, and lobster of course was the primary ingredient of most dishes, and sides of spicy rice with beans or peas, and locally grown mixed green and vegetable sides were common.
Seafood and some herbs and vegetables could be produced in the Turks and Caicos, but staples such as rice and grains, and to a lesser extent salt meat, sugar, coffee, and tea had to be imported.
Although pan-poached fish with peas and rice, and classic fish stews are still favorites, breaded and fried conch fritters, conch salad, and conch chowder have become the main dish associated with the Turks and Caicos.
Flavors from across the Caribbean have also made their way into the kitchens of the Turks and Caicos, especially from the fellow Commonwealth countries of the Bahamas and Jamaica with their fish stews and jerk seasonings. Jerk chicken and BBQ are now quite popular at local eateries.
Over the last decade, the farming of vegetables, fruits, herbs, and spices has seen a welcome comeback to the country. Sites such as the Government Farm in Kew on North Caicos raise produce with traditional methods, and the hydroponic and aquaponics farms on Providenciales, grow much-needed fresh and delicious lettuce, tomatoes, peppers, cucumbers, papaya, and more.
A sign of the changing times are resorts such as the all-inclusive and luxury Amanyara, which features an onsite organic hydroponic farm that supplements the resort's gourmet dining.
Great places to experience local dining in a tropical beachfront setting include the communities of Blue Hills and Five Cays, where popular restaurants such as Da Conch Shack, Bugaloo's Conch Crawl, and Omar's Beach Hut can be found.
Beachfront Settings and Beautiful Ambiances
The Turks and Caicos features a wealth of beachfront restaurants, and some great inland and waterfront locations as well.
For local cuisine dining on the beach, Omar's Beach Hut, Da Conch Shack, and Bugaloo's Conch Crawl can't be beat, with classic TCI menus of fresh fish, cracked conch, conch salad, and grilled lobster. All three restaurants offer a great beach bar too, surrounded by palm trees and white sand.
Bay Bistro, The Deck at Seven Stars, and Infinity at the Grace Bay Club overlook breathtaking Grace Bay Beach, and serve an international menu. There are also some lively al fresco and casual spots on Grace Bay for those seeking a burger, tacos, or fish and chips. Somewhere Café and Jojo's Café are located at the Bight Reef, and Rickie's Flamingo Café is located on the eastern side of Grace Bay.
Several marinas on Providenciales offer an elegant waterfront setting for dining, including Turtle Cove, which is home to Mango Reef, Sharkbite, and Baci Ristorante, and Bob's Bar is located at South Side Marina. All offer beautiful sunset views.
On the island of Grand Turk, home to the country's only cruise port, are four great beachfront restaurants, including the casual Jack's Shack and Sandbar, and The Bird Cage Restaurant located at Osprey Beach Hotel.
Breakfast, Lunch, and Dinner
Many restaurants aren't open for breakfast, and some are open for dinner only. On the family islands, reservations are recommended, especially for larger groups.
Bars, Grills, and Casual Dining
Another genre that the Turks and Caicos does well is casual and outdoor eateries.
Restaurants with great beachfront and inland settings can be found on all of our inhabited islands, and cuisines range from local to international and grill favorites. Many casual sites are family-friendly and offer children's meals. The beach provides perfect entertainment for kids while you wait for food!
There are many places to find proper burgers, fish and chips, Caribbean BBQ, or wings.
If you're looking to start with cocktails or drinks, the waterfront sites are an ideal and romantic place to watch the sunset.
Pizza
There are several great Italian and pizzeria restaurants if you're craving pasta or pizza, and both gourmet and classic American-style pies are available.
Pizza delivery, a common amenity in other regions, has made its advent on Providenciales, and it's now possible to have a local take-out joint deliver directly to your hotel room or private villa.
Restaurants Across Our Islands
Each of the islands in the Turks and Caicos offers a unique set of restaurants to choose from. The number of restaurants on our smaller islands and cays is often quite limited, yet the food tends to be excellent.
Due to the day arrivals of cruise ship guests, Grand Turk supports many lunch spots. In the evening when everything quiets down, restaurants in old Cockburn Town shine, with great food and live music.
On North Caicos and Middle Caicos, local and fresh ingredients are the center of many dishes. The fish and lobster that factor into the dishes are usually caught only hours before serving.
The little island of Salt Cay isn't outdone, and the island's four culinary options reflect local, international, and bar and grill favorites.
If you're staying on Providenciales, we recommend that you pick up a copy of our local Dining Guide magazine. This quarterly publication offers an overview of most of the restaurants on Providenciales, and includes menus, photos, and price guidelines.
Reservations
Generally, we advise making reservations, especially at fine dining restaurants, and at establishments on our smaller islands.
Some popular restaurants, such as Coco Bistro, may experience limited availability, so confirm well in advance of your arrival.
The availability of accommodations, excursions, and services in the Turks and Caicos varies according to the season. The winter and spring "high season" experiences the greatest number of tourist arrivals, in contrast to the late summer "low season". See When to Visit the Turks and Caicos for more information.
All-Inclusive Resorts and Dining
The Turks and Caicos is home to several all-inclusive resorts, and the dining they offer guests varies quite a bit. The family-friendly Beaches Turks and Caicos resort features more than 20 restaurants, with a simple guest policy that allows for unlimited dining and drinks. Also on Grace Bay Beach is Club Med Turkoise, which has a similar unlimited food and drink policy, albeit with far fewer dining choices, most of which are typically buffets.
Many of the other all-inclusive hotels in the Turks and Caicos specifically serve one breakfast, lunch, and dinner per day per guest according to the restaurant's menu, and may or may not include unlimited drinks.
Private Chefs
Another great dining option when in the Turks and Caicos is hiring a private chef. Vacation villas and many of the larger resort and condominium suites feature full kitchens, and a chef can cook the cuisine that's desired, and is a perfect choice for special dietary or allergy considerations, or if there's a good catch from a fishing charter.
Great Turks and Caicos Restaurants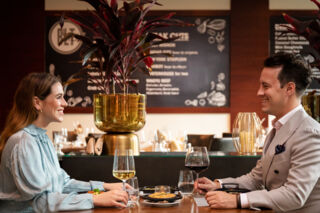 BLT Steak
The newly-opened BLT Steak at the Ritz-Carlton offers a contemporary take on an American steakhouse, with a full complement of 100% naturally raised and certified Black Angus, as well as fresh seafood, salads, and a premium wine list that represents the world.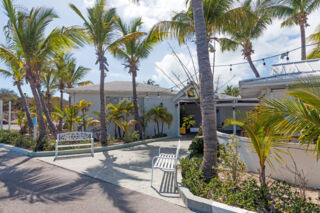 Mango Reef
Mango Reef features waterfront fine dining at Turtle Cove on Providenciales. Explore a menu of seafood, Caribbean, and international favorites.
International Cuisine + More
Prices shown are inclusive of tax. Gratuity is not included and is appreciated by staff. This venue charges Government Tourism Tax (12%).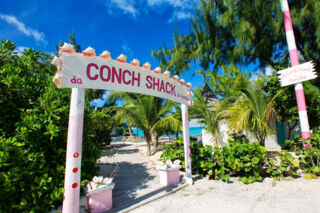 Da Conch Shack
Blue Hills Road
This popular open-air beachfront restaurant specializes in locally harvested conch, seafood, and Caribbean dishes including jerk chicken and ribs. Local bands play every Reggae Wednesday. House-made desserts include Key Lime Pie, Ginger Cheesecake, and Rum Cake. Family and group friendly.
Prices shown are inclusive of tax. Gratuity is not included and is appreciated by staff. This venue charges Government Tourism Tax (12%).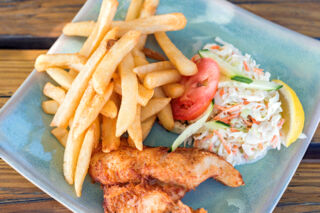 Chinson's Grill Shack
17 Savannah Road
Chinson's Grill Shack is a popular restaurant and bakery on Leeward Highway, and serves a menu of Jamaican Jerk, Caribbean BBQ, and Chinese dishes. Fresh bread is available for purchase.
Prices shown are inclusive of tax. Gratuity is not included and is appreciated by staff. This venue charges Service Charge (10%).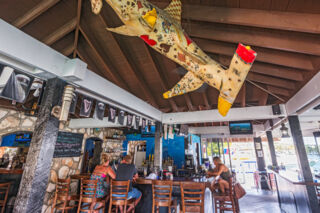 Sharkbite Bar and Grill
Bridge Road
Sharkbite Bar and Grill is located on the water at Turtle Cove Marina. This popular casual restaurant serves seafood, wings, burgers, sandwiches, and much more.
Prices shown are inclusive of tax. Gratuity is not included and is appreciated by staff. This venue charges Service Charge (15%) and Government Tourism Tax (12%).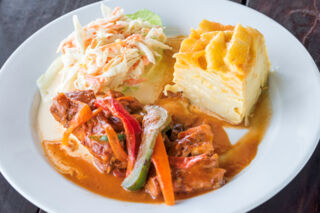 Mangrove Bay Restaurant
Industrial Drive
Mangrove Bay Restaurant is a Turks and Caicos cuisine establishment near Downtown on Providenciales, and specializes in fresh local seafood dishes. Enjoy island favorites such as whole steamed fish, pea n' rice, BBQ, souse, conch, lobster, and more.
This venue does not charge any taxes. Gratuity is optional and is appreciated by staff.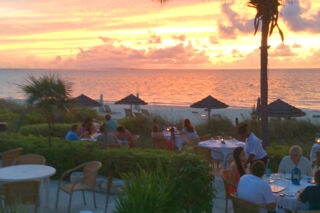 Bay Bistro
Beachfront restaurant at the Sibonné Hotel. Serves freshly caught seafood and freshly made desserts and ice cream. Open for breakfast, lunch and dinner.
Breakfast, Brunch, Lunch and Dinner
Prices shown are inclusive of tax. Gratuity is not included and is appreciated by staff. This venue charges Government Tourism Tax (12%).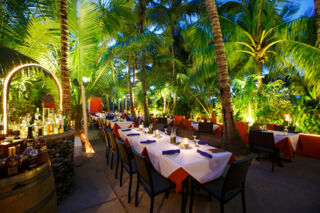 Coco Bistro
Oak Avenue
Coco Bistro is one of the best-loved Turks and Caicos gourmet restaurants, and is located in central Grace Bay. The restaurant serves a wide menu of international dishes. Reservations are recommended.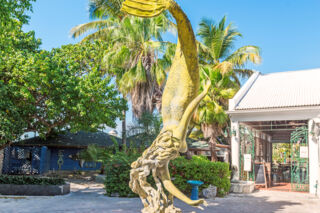 Baci Ristorante
Baci Ristorante is a popular Italian and seafood restaurant, located at Turtle Cove Marina in central Providenciales. Discover handmade pastas, local fish and lobster, classic pizzas, and more.
Prices shown are inclusive of tax. Gratuity is not included and is appreciated by staff. This venue charges Government Tourism Tax (12%).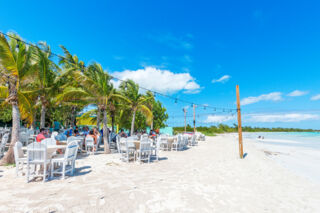 Bugaloo's Conch Crawl
Bugaloo's Conch Crawl is one of the best-known restaurants in the Turks and Caicos. Located on picturesque Five Cays Beach, the restaurant features seafood and conch dishes, a great location, live music, and dining in a coconut grove, on the beach, and in the ocean.
Prices shown are inclusive of tax. Gratuity is not included and is appreciated by staff. This venue charges Service Charge (15%) and Government Tourism Tax (12%).