Turks and Caicos
Real Estate
Buy a Property or Home in the Turks and Caicos
The Turks and Caicos is currently experiencing one of the strongest real estate markets in the Caribbean. This is especially true for luxury villa development and ownership. There's a wide range of available property in Turks and Caicos, including vacant land, finished homes and villas, duplexes and townhouses, multi-family residences, condominiums, and commercial property.
On a global scale, the Turks and Caicos is quite a small country. Total landmass is only 300 square miles (616 square kilometers). However, much of this area includes protected tidal wetlands and nature reserves, so the buildable area is far less than may be initially apparent.
There are seven main islands in the TCI: Providenciales, Grand Turk, North Caicos, Middle Caicos, South Caicos, East Caicos, and West Caicos.
A large number of cays are also found in the Turks and Caicos, from the relatively large and inhabited islands of Salt Cay, Ambergris Cay, Parrot Cay, and Pine Cay, to a countless array of small rocks and sandbars, including the uninhabited Water Cay.
Due to the overall quality and quantity of the beaches, Provo is currently home to the majority of the population and development in the country. However, the lower levels of development on the islands of North Caicos, Middle Caicos and South Caicos allow for a much greater selection of beachfront and oceanfront land for sale than what's available on Provo and Grand Turk.
The best place to start your property search is the local Turks and Caicos Real Estate Association (TCREA). This website offers an extensive collection of listings from licensed agents in the country. Most agents and brokerage firms are members of TCREA.
Ownership in Turks and Caicos
The Turks and Caicos is a British Overseas Territory. There are no restrictions on foreign individuals owning real estate. However, it's important to note that foreign companies and trusts are not able to own real estate in the country.
The currency used in the Turks and Caicos Islands is the U.S. Dollar, and land is sold using the acre measure.
When buying real estate in the Turks and Caicos, a stamp duty of 0-10% is applicable. The rate depends on the value and special development deals. Stamp duty is in addition to brokerage and legal fees. The property seller typically pays the agent's fee. The Turks and Caicos Real Estate Association (TCREA) sets commissions on properties sold by their association members, which is 6% for developed properties and 10% for undeveloped properties.
Quick Real Estate Facts
Stamp Duty
0-10%
Foreign Ownership
No Restrictions
Ownership
Freehold Available
Property Tax
None
Residency Rights
Dependent on Value
Currency
U.S. Dollar
It's important to be aware of residency status and eligibility before investing in the country. Depending on the investment amount, a residency permit or a Permanent Resident Certificate (PRC) may be granted. After a legal residency of five years, and if one holds indefinite leave to remain (typically a PRC), it's possible to apply for British Overseas Territory Citizenship (Turks and Caicos Islands). This citizenship confers a passport, however, be aware that voting and certain business rights are restricted to those who Turks and Caicos Islander Status (also commonly referred to as Belonger Status). Turks and Caicos Islander status can be very difficult to obtain regardless of residency length.
Mortgages and property loans are available through local banks and financial institutions. However, they can be difficult to obtain for foreign home and property ownership. See Turks and Caicos Banks.
Vacant land, detached single-family homes, condos, and multi-unit residential townhouses are available on Providenciales. The options on the other islands in the Turks and Caicos are largely limited to either vacant land or detached single-family homes, due to the limited development that our less-populated islands have experienced. Condos range in size from a simple studio with a bed and bath, to expansive suites and penthouses with several bedrooms and a likewise impressive ocean view over Grace Bay.
As to be expected, beachfront and oceanfront land in Turks and Caicos commands a price premium. Prices for such land on the less-inhabited islands is typically less than on Providenciales and Grand Turk, however the price ratio on each island between inland and oceanfront remains roughly the same.
The easy accessibility of the Turks and Caicos Islands to North America makes us a top choice for retirees and those wanting to buy a second home to escape the cold of winter.
There are only a few gated communities in the Turks and Caicos, many of which are smaller luxury villa enclaves. Private security does patrol some of the more exclusive neighborhoods.
Property Listings
The local Turks and Caicos Real Estate Association (TCREA) offers an online multi-listing service (MLS), covering many of the featured properties listed with estate agents. However, it's important to note that this is not an exhaustive list. There are many other parcels and units listed solely on an agent's site, and of course properties for sale by owner. In addition, especially for smaller-value land, parcels are listed for sale direct by the owner, through signs on the property or through advertising (it's common to advertise locally on Facebook due to the low cost).
If you're looking to live or work temporarily in the Turks and Caicos, there's a wide range of long-term rental and lease properties. Many of these are townhomes and condo units, which offer shared amenities such as swimming pools, tennis courts, and maintained gardens, often in great and convenient locations.
There are many condo and townhouse complexes on Providenciales, across several different regions. The Grace Bay area has units on the beach as well as inland, including Villa Renaissance, Villa del Mar, and West Bay Club. The Turtle Cove district offers the Yacht Club and La Vista Azul. Central locations include Flamingo Park Townhouses and Kokomo Botanical Resort and Spa. Most sites are complete with a pool and other amenities.
If you're looking for a gated community, there are several townhouse complexes at the Royal Turks and Caicos Golf Club, as well as the secluded Northwest Point Resort.
Turks and Caicos Properties for Sale by Owner
The Turks and Caicos uses a land registry system, and it's possible to identify an owner by paying a $25 fee and submitting a form. This can help identify the owner of a property, although it may be a corporation or trust which would require additional work to narrow in on the beneficial owner or owners.
Note that if a property is listed with an agent, the seller must still pay a commission, even if you approach them directly.
Providenciales
Providenciales offers some of the finest beaches in the world and quite a few upscale coastal residential regions.
There are general residential-zoned parcels to choose from, as well as lots in organized residential developments that fall under a homeowner association (HOAs). Whereas residential zoning typically starts at the single-family home level, it's common to see approval given for residential apartment blocks located within traditional residential neighborhoods. Private associations typically have much stricter standards and enforcement than parcels not in an association.
Neighborhoods and Areas
A property on Grace Bay Beach is of course a very desirable item, but the unfortunate fact is that there are very few non-condo options to choose from, most of which are found on the extremities of the coast. As such, beachfront properties fronting the Princess Alexandra National Park is generally the most expensive properties for sale in the country.
Leeward is found on the northeast side and features some of the finest undeveloped beachfront lots on the island. Also within this area is the Royal Turks and Caicos Golf Club, where both vacant residential land, existing homes, and townhouses are available for purchase.
Chalk Sound and Silly Creek are surrounded by an incredibly-scenic lagoon and wetlands. Long Bay Beach is another site and one of the finest kiteboarding locations in the Caribbean. Blue Mountain, situated on the highest point in the country, offers incredible vistas over the northern barrier reef and water. Thompson Cove is part of the greater Blue Mountain region on Providenciales.
Long Bay Hills, found inland near Long Bay Beach, is a quiet residential community. The properties with elevation in the area offer views over Juba Sound and the turquoise waters of the Caicos Banks.
Discovery Bay is another residential region, and has a network of canals, the perfect property type for boat owners.
The central part of Providenciales is home to the communities of Richmond Hills and Cheshire Hall.
The western portion of Providenciales, including the North West Point area, is generally not developed. The exceptions are the Amanyara Resort and Northwest Point Resort.
There's also a wide selection of condo, waterfront, and canal lot listings on Providenciales. These are mainly in the Leeward, Turtle Cove, and Juba Sound areas.
Several of the expansive mansions on Provo have been featured in major international publications such as Forbes, and many are favored by celebrity visitors as vacation destinations.
Condominiums
If you'd prefer the simplicity of a condominium, there's availability in beachfront resorts and interior townhouse complexes. Many condos can be rented out through the onsite management when the owners aren't in the islands for additional income. There are many single-bedroom studios and units with multiple bedrooms and bathrooms to choose from. As you'd expect, penthouses carry a premium over even the floor below. Most condos are located in Turtle Cove, the Bight, Grace Bay, and Leeward.
The Bight Condominiums: Wymara Resort (formerly Gansevoort), West Bay Club, Coral Gardens Resort, Windsong Resort.
Grace Bay Condominiums: Alexandra ResortThe Palms, The Somerset, The Sands, Le Vele Resort, Seven Stars Resort & Spa, Ocean Club West, Grace Bay Club, Royal West Indies Resort, Point Grace, The Tuscany, The Venetian, and The Pinnacle.
The Shore Club is located in Long Bay and Blue Haven Resort is located in Leeward.
One of the newest projects is the 12-story Ritz-Carlton in Grace Bay. This property began construction in early 2018 and was completed in June 2021.
Villa Collections
A newer phenomenon is the rise of villa collections. Typically, a developer will build a group of 4-16 villas, which may share features such as common gated access or other amenities, such as a tennis court. Beach Enclave operates three of these developments on Providenciales. Blue Cay is a similar concept situated on a private canal in Leeward. The Strand is a project located at Cooper Jack Bay on the southern coast of Providenciales.
These properties are typically let out as vacation rentals when owners are not present.
Luxury Real Estate
Similar to the villa collections above, there are a variety of luxury home projects in the Turks and Caicos. South Bank Residences in Long Bay is one such example. This small planned community features restaurants and shops, along with both townhouse-style homes and detached beachfront (and ocean front) villas. Much like in the United States, there is an increase in new developments being larger planned communities which incorporates housing and other amenities.
North Caicos and Middle Caicos
If you're looking for more than a few acres, the islands of North Caicos and Middle Caicos offer the best choices. There are sites on secluded beaches and coasts, acreage in the inland tropical forests, and homes in the quaint settlements.
Due to the low levels of development on these two islands, many beautiful sites are located in remote areas that are accessed by long and unpaved roads.
Grand Turk
Many of the best British-Bermudian colonial houses in the Turks and Caicos are on the island of Grand Turk. These buildings feature hand-cut limestone block construction, tropical hardwood interiors, and a prime oceanfront location.
On the east side of the Grand Turk, there are both villas and undeveloped land available. Many of these properties are either beachfront or located on a coastal ridge on the bluffs overlooking the ocean.
Our Smaller Islands
Salt Cay and South Caicos still exhibit an old Caribbean atmosphere, yet access and investment are increasing. It's home to the expansive Sailrock private residence development and resort. There are very few finished homes for sale on these two islands, yet there is some incredible vacant ocean frontage available, including parcels on perfect white sand beaches. Salt Cay in particular has many quaint seaside cottages.
If you're looking for something a bit more exclusive, there are also private island enclaves to choose from, including Pine Cay, Parrot Cay, and Ambergris Cay.
Finding an Agent
The Turks and Caicos now supports quite a few real estate brokers. Several international agencies are also represented locally (such as Sotheby's, Christie's International Real Estate, ERA, or more recently Engel & Völkers).
If you're looking to purchase directly from the property owner, it's possible to have a local lawyer oversee the transfer and ensure that governmental requirements are met.
For larger projects, developers typically opt to work with a single realty firm to handle property sales, or may form a dedicated entity whose sole purpose is to manage sales.
Long-term rentals can be found through estate agents, local condo management at a complex, and by owner.
Building in the Turks and Caicos
For those who want to build their dream house, the construction options in the Turks and Caicos are greater than ever. Due to the rapidly expanding luxury villa and guest house market on Providenciales, there is a wide selection of architects, engineers, project managers, and contractors to choose from.
Finding the perfect property to build on can be a daunting task. It's best to consider a visit to the various districts and areas of Providenciales and our other islands for insight into location and design.
Once you choose a property to build on, construction can begin after government planning approval has been received.
Commercial Properties
If you're considering starting a business in the Turks and Caicos, there are many commercial properties for sale and for rent. Options include a unit at a retail and professional plaza at Grace Bay or Leeward Highway, or complete and detached commercial properties.
Grace Bay Road on Providenciales is the center for dining, luxury shopping, and tourism-related businesses.
Much of the industrial-type zoning and businesses in the Turks and Caicos are found in the South Dock region of Providenciales. To get a better understanding of the island's locations, see the Providenciales districts map.
Terrain and Geology
As the name may suggest, the Turks and Caicos consists of two closely adjacent archipelagos: the Turks Islands and the Caicos Islands. Both island groups are situated on a limestone plateau that rises abruptly 11,000 feet (3,300 meters) from the Atlantic Ocean floor. The 6,000-foot deep (1800 meter) Turks Island Passage separates the two island groups.
Vibrant reefs surround almost all of both the Turks Islands and the Caicos Islands. The ongoing bioerosion of these reefs by marine animals such as the parrot fish continually feeds the spectacular beaches that define the Turks and Caicos.
The general geology of the country is similar to the neighboring Bahamas island chain, with very low elevations, extensive wetlands, and prevalent Karst Process geomorphological features.
Real Estate Agents and Projects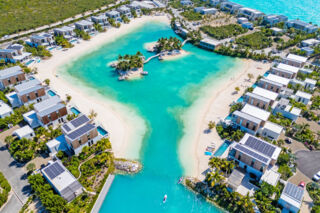 South Bank is an exciting new luxury development at Long Bay on Providenciales. This elegant waterfront and marina community accommodates contemporary private villas, which overlook the exquisite turquoise hues of the Caicos Banks.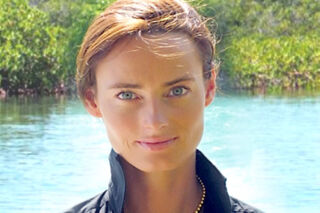 Turks and Caicos Property
Led by owner and broker Bernadette Hunt, Turks and Caicos Property was established in 2000 and is a leading broker of premier real estate, with a wide portfolio of luxury homes, vacant land, and beachfront condos.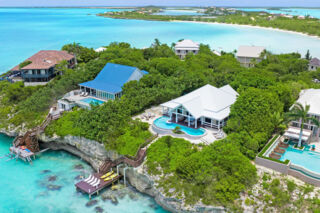 Grace Bay Realty is an affiliate of Forbes Global Properties and is one of the leading real estate brokers in the Turks and Caicos. With more than 20 years' experience in the industry, their team can advise on all aspects of the buying and selling process, and assist clients in finding their perfect property.