Turks and Caicos
Private Chefs
The Turks and Caicos Islands offers a small yet select assortment of private chefs, caterers, and boutique bakers. It's easy to arrange everything from a gourmet meal at a private villa, to large events and parties with drinks, fine dining, and professional serving.
The island of Providenciales is home to much of the tourism, hotels, and luxury development in the Turks and Caicos. It also offers the best selection of private chefs, with a vast collection of cuisines represented. Menus range from our own island flavors, to European and Asian cuisines, vegetarian and vegan, American BBQ, Caribbean flavors, and more.
Local fresh-caught seafood is a top ingredient in many dishes, with options such as Caribbean spiny lobster, conch, and fish that may include wahoo, tuna, mahi-mahi, grouper, and snapper. There's also a full array of imported seafood and meat to choose from, including salmon, shrimp, and sea bass flown in, and prime cuts of USDA-certified meats.
Private Chef Services
If you're staying at one of the vacation rental villas on Providenciales, the services of a private chef can be arranged, for either a single gourmet meal, or to cook for the duration of your stay.
Some luxury villa accommodations, such as the Beach Enclave collection, feature full concierge and butler services, and make it easy to arrange services such as private chefs or offsite trips and charters.
You'll be able to have breakfast, lunch, and dinner at times of your preference, and a personal chef will be able to accommodate and design menus for any dietary restrictions or requirements. Several of the local chefs have various nutrition and diet specialties, including vegan and vegetation, and have the experience to prepare meals and courses that cater to certain allergies, or are gluten-free.
Some of the fresh and healthy options incorporate produce grown in the Turks and Caicos, including tomatoes, lettuce, peppers, beans, cucumbers, sprouts, squash, pigeon peas, and okra–everything needed for an amazing salad or appetizers!
Another popular offering from local chefs and restaurants is a romantic dinner for two on the beach.
If you'd like to arrange a private chef for a vacation villa stay, you may want to inquire with your villa booking agency, as they will often have recommendations on chefs.
Drinks and Bartenders
The full array of drinks, a bar and skilled bartenders can be reserved for parties, anniversaries, and weddings.
Rates are typically per-hour for a bartender, with either an additional per-person rate or per-drink rate as well. Cocktail mixers and garnishes are typically included.
If you have specific requests or would like to supply your own alcohol, wine, or champagne, be aware that there may be corkage or bar setup fees.
Catering
Whether you're planning a single party, your complete wedding, or a corporate event, there are many custom food and dining options.
Our local catering businesses will work with you to develop the perfect menu and select a chef, and the dishes may be international favorites, Caribbean fusions, fresh pasta, or be inspired by traditional Turks and Caicos cuisine. Convenient buffet arrangements or multiple courses are offered, and professional servers and staff can be arranged as needed.
Delivered drop-off gourmet dinners and desserts can be reserved for evening delivery to your hotel or villa. If you're looking for lunch or something a bit simpler, hot and cold sandwiches, fruit platters, and salads are choices as well.
The catering companies may also be able to provide any equipment necessary for your event, including shade tents, table and chairs, décor, lighting and hurricane lamps, cutlery and place settings, crystal, and linen.
Catering for yachts and private aircraft is also easy to arrange. Your orders can be delivered directly to your marina or FBO.
If you have a favorite restaurant (including establishments at the resorts and hotels), consider contacting them regarding catering services, as many are willing to accommodate offsite events.
When looking for the best Turks and Caicos catering company or private chef for your special occasion, one of the greatest considerations is cuisine, as every caterer has their own style and specialties. Due to the various backgrounds of the local chefs and caterers choices include authentic Turks and Caicos dishes featuring local fish, conch, or lobster. There's also regional flavors from the Bahamas and Caribbean, and French, Italian, and contemporary international.
Desserts can be as simple as gourmet cookies or caramel topped with local sea salt (a TCI favorite), or as enticing as a perfect crème brûlée.
The Turks and Caicos is only one hour by air from Miami and three hours from New York, so almost any ingredient can be flown in with advance notice.
Outdoor Grilling and Beach BBQs
If you'd rather have more of a casual setting and fare, an outdoor or beach BBQ can be the perfect cooking choice. There's a great selection of seafood, meat, and vegetable choices.
As a tropical island archipelago, seafood is naturally the center of many local dishes. Grilled lobster (when it's in season) and fish are general favorites, yet jerk and southern-style BBQ can be done too. Nassau grouper, red snapper, mutton snapper, mahi-mahi, wahoo, and tuna may be on the menu, especially if you caught it yourself!
There is a tremendous selection of coasts and beaches to choose from for beach BBQs and parties. Your caterer may offer advice or a preference on the location, or you can browse the various beaches in the Turks and Caicos and select the perfect setting.
A beach bonfire can create a great backdrop for a BBQ, and also provide a bit of light after the sunset.
Weddings
If you'd rather not hold the rehearsal dinner and all-important wedding reception at one of the local restaurants, a caterer can ensure you have a delicious culinary experience at a private villa or on the beach. If you choose to work with a wedding planner (a route we generally recommend for all yet the smallest weddings), we advise discussing the dinner plans and venue with the wedding planner before making reservations with a caterer, as some local businesses have working relationships and will be able to offer better deals for a combined package.
Many of the local caterers and wedding planners will be able to help with food choice, dining experience, and menu ideas to satisfy all your guests.
Custom Wedding Cakes
The wedding cake is an essential part of your important day.
There are several boutique bakers who specialize in cakes and desserts. The Turks and Caicos is a small country and doesn't see a large number of events, and as such a wedding cake order is typically the sole point of attention at a local baker. Cupcakes and macaroons, available in elaborate displays, are another option. Selecting a small cake to cut, and designer cupcakes for the guests can simplify serving.
Almost any flavor you'd want can be created, including (and combinations of) vanilla, chocolate, velvet, coconut, buttercream, hazelnut, rum, fruit fillings, and more.
As is also recommended for almost all other aspects of your wedding, it makes sense to choose and contact a baker well in advance of the date to resolve flavors and tasting. Depending on your requirements and desired flavor, ingredients may have to be specifically ordered and flown in by the baker.
Craft Services
Cold snack buffets, sandwiches, lunch and refreshments for special projects, job sites, and media projects is also available. Extra fees may apply for remote sites, or for locations on islands other than Providenciales.
Groceries
Your private chef will be able to purchase (and know where to find) any groceries required for either the planned meals or general use, and that the kitchen is properly stocked.
Organic products, locally grown produce, and freshly caught fish, conch, and lobster can be sourced in the Turks and Caicos, as special international orders can be made.
Wine, beer, and alcohol can be stocked as well. Provo is seeing an increasing number of specialty and well-stocked stores, yet shopping can still be a time-consuming process if you're looking for specific items. If your chef or concierge takes care of provisioning, you'll have more time for the beach.
Training and Experience
There's a wide range of skills available. Some private chefs have extensive backgrounds at established, well-known restaurants, whereas others are new to the industry.
It's a good idea to inquire about your chef's background and ensure that they have an established business.
Costs and Hiring a Private Chef
Starting rates are about $250 for breakfast/brunch, and $450 for dinner for a personal chef. Of course, this is exclusive of food and additional expenses. There's typically an extra fee for larger groups (usually more than around 8 people).
More complexity, such as additional courses, intricate desserts, or specialty food items will increase the cost.
Reservations and Policies
We advise booking your reservation well in advance of your event date or visit. The number of local catering firms is limited, as well as availability.
A deposit is typically required for events and orders. Additional delivery fees may apply for equipment rentals. The 12% government tourism tax will typically be applied on top of quoted fees and rates.
Cancellations
Cancellation periods and fees are typically quite reasonable, however, it's important to be aware of policies.
Refunds may not be offered on specialty food products or event items that are imported or purchased prior to your cancellation.
Turks and Caicos Private Chefs and Catering Services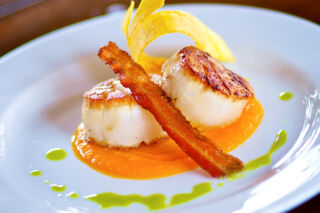 Caicos Catering is a gourmet private chef and catering service, based on Providenciales. With more than thirty years of dining and restaurant experience and a professional facility, Caicos Catering can provide exceptional dining for events small and large, from an intimate dinner at a villa, to wedding dinners and corporate events.