North Caicos & Middle Caicos
Restaurants & Dining
Due to their limited population, North Caicos and Middle Caicos do not have large number of restaurants, regardless of this fact, some of the country's best dishes can be had on these two islands.
Authentic Island Cuisine
The Turks and Caicos has had an interesting culinary past, and our dishes today reflect the bygone industries and hardships of the islands.
To eke out an existence on small and dry tropical islands wasn't easy, and fishing, farming and imports had to be assembled to put meals on the table.
One of the favorite dishes of the past and today is pan-poached fish, peas and rice, and a side of greens salad. Local corn and maize would be ground for grits and rice (before the commonality of international trade allowed for rice imports) or cornbread journey cakes.
Like so many other cases throughout the world, dishes that formed through necessity have developed and become appreciated in their own right.
Fresh Seafood and Vegetables
As the Garden Islands of the Turks and Caicos, North Caicos and Middle Caicos serve some of the freshest food available in the country. The seafood is freshly-caught and typically served the same day, and vegetables, fruits and greens are raised on local farm patches or at the Government Farm.
When the fishing seasons are open, there's a wide selection of seafood to choose from, including Nassau grouper, red snapper, mutton snapper pot snapper, yellowtail, spiny lobster and of course conch.
On land, tomatoes, peppers, lettuce, squash, beans and maize are the vegetables raised, and papayas, key limes, sugar apples and bananas sweeten the menu.
Reservations and Dining on Sunday
North and Middle Caicos tends to see quite a few day trip visitors, so most restaurants are open for lunch Monday through Saturday.
Overnight guests may find the dining options to be a bit more limited. We advise making reservations for such times.
Note:
Most establishments on North and Middle Caicos are closed on Sunday. A few may open by reservation, so consider calling ahead.
Silver Palm Restaurant and Bar
, located in
Whitby
, is open 7 days a week.
Restaurants
Last Chance Bar and Grill
Last Chance is a waterfront restaurant located on beautiful Bottle Creek, specializing in seafood dishes but also offering juicy hamburgers for lunch and tender beef fillets for dinner. This out-island upscale restaurant serves tropical cocktails and specialty desserts. Open Wednesday to Sunday for lunch, dinner by reservation.
Learn More
This little shop is found in the settlement of Conch Bar on Middle Caicos and offers snacks, cold drinks and ice cream.
Learn More
Silver Palm Bistro offers sweet and savory delights for breakfast and lunch. Conveniently located on Horse stable Corner. Choose from a wide selection of home made ice cream and sorbets made on site with all natural ingredients. Freshly brewed coffee, gourmet teas and smoothies, home made pizza and sandwiches for take out or dine in.
Learn More
Pelican Beach Hotel Restaurant
The on-site restaurant of the Pelican Beach Hotel. Serve a range of local cuisine and international favorites.
Learn More
Silver Palm Restaurant and Bar
Local and international fare with freshly-baked bread. Serves breakfast, lunch and dinner.
Learn More
This restaurant is permanently closed. Located on the beach at Conch Bar Village, the internationally-popular Daniel's Café serves seafood and local dishes. Originally founded by Daniel Forbes, his son Devon has continued the tradition. Open for lunch and dinner. Please call ahead for groups and dinner reservations.
Learn More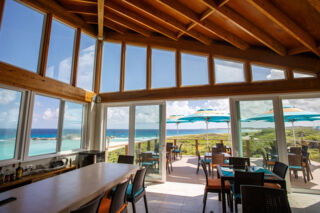 Mudjin Bar and Grill at Blue Horizon Resort is open daily from 11:00-16:00 for lunch and for dinner by reservation. Experience our signature lemon-herb French fries, fresh local seafood and our famous jerk burger while enjoying the stunning view from our deck overlooking Mudjin Harbor.
Learn More
Fast food and packed lunches. Located conveniently near Sandy Point Marina.
Learn More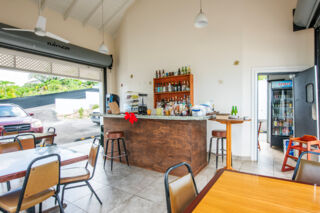 Miss B's Island Restaurant
Miss B's is one of the most popular restaurants on North Caicos. Enjoy local seafood, grill favorites, fresh homemade ice cream and baked goods, live music, and pizza. Located near Major Hill and the airport.
Learn More
Last reviewed by an editor on 9 April 2019.