Providenciales
Restaurants & Dining
Providenciales is the undeniable culinary centre of the Turks and Caicos. There are over 60 great restaurants and cafés to discover, with cuisines ranging from our timeless local seafood dishes to international favourites.
Several of our fine dining restaurants are led by award-winning international chefs, who combine unique dining backgrounds from around the world with Turks and Caicos tastes.
Fine Dining
Of all the culinary genres, Providenciales does gourmet dining the best. There's always a great restaurant, café or bistro to explore, and new dishes to try.
As may be expected from the many luxury resorts in the area, Grace Bay is home to most of the island's restaurants, and many sites are within walking distance of or are inside the region's accommodations.
Although we're a small tropical archipelago with limited agriculture, local food and produce is fresh, as it's either imported by a short journey from the United States, or is locally grown in one of our hydroponic or organic farms.
The desserts can be more impressive than the main courses. There is carefully-crafted gourmet ice cream and sorbet, crème brulee or cake, and chocolate and fruit fondue to name just a few choices.
Reservations are recommended for dinner at most of the Grace Bay and fine dining restaurants. During the winter high season, availability may be limited at the popular establishments, so book well in advance.
A great experience is to go deep-sea sport fishing on a local charter, and have a restaurant expertly prepare the catch. It's difficult to surpass fresh tuna, mahi-mahi, and wahoo when it's cooked right.
International Cuisines
A wide array of cuisines and countries are represented by local dining establishments.
All of the European flavours can be found here, including Italian, French, Mediterranean, and contemporary fusion.
There are quite a few Asian cuisines to choose from as well, from traditional Japanese sushi, Chinese, Thai, and Indian, to kebabs and roti.
Many of the hotels and resorts offer complimentary breakfasts, or a light meal of a croissant and coffee can be found at a bakery or café.
There's a wide range of lunch and family options too, including places to get the perfect burger, pizza, pasta or sandwich.
We Don't Have Any Chain Restaurants
There's one dining aspect of the Turks and Caicos that very few other countries can boost of: we don't have any chain restaurants. There are none of the international fast food joints, no McDonalds, Burger King, Subway, or KFC. If you're craving fried chicken, there's Sweet T's.
Turks and Caicos Cuisine
The favourite dishes of the Turks and Caicos have traditionally been assembled from freshly-caught seafood, local greens and produce, and a little imported rice and grains. These ingredients would be used to create food such as fish stews, pan cooked fish with peas n' rice (actually beans and rice in most cases) and flavoured rice, and seafood chowders.
The ocean has provided quite a bit to the Turks and Caicos, and fishing has always been good. Grouper, snapper, jacks, tuna, mahi-mahi and wahoo are common fish catches, and conch and lobster are collected as well.
The most popular seafood of the Turks and Caicos is the queen conch. This giant sea snail thrives in the shallow sea grass beds of the Caicos Banks and is prepared in a number of ways, including fried as conch fritters, served raw in a conch salad (the acids in the added lime juice essentially "cook" the meat), and conch stew.
Many of the top island dining restaurants and bars feature great beachfront locations in the old settlements of Blue Hills and Five Cays, so you'll also be able to get a drink and enjoy the view and sunset.
If authentic Turks and Caicos dishes are a top interest, definitely consider a day trip to the islands of North Caicos and Middle Caicos. In addition to the scenic natural attractions and beaches, there are some great island restaurants, which usually incorporate local produce into dishes.
Caribbean Fusions
As may be expected due to the close proximity, the sister nation of the Bahamas has had the greatest influence on our dishes, and there is quite a bit of overlap in food as well as recipes borrowed from one another. The fried conch fritters are one such example, and was largely unknown in the Turks and Caicos until the latter 1900s, after Turks and Caicos Islanders who emigrated to the Bahamas for work after the decline of the sea salt industry returned with new ideas for the kitchen.
Although the Turks and Caicos can't quite claim the invention, many of the local eateries offer excellent Caribbean-style BBQ. These dishes aren't quite as sweet as the famous varieties from the United States, yet they're just as good. Although commonly known as an American flavour, Barbeque actually originated not far from the Turks and Caicos in the northern Caribbean and on the island of Hispaniola. The indigenous peoples would slow-roast meat with green wood fires, and early European explorers adapted this cooking method.
Another Caribbean classic is spicy Jamaican jerk. There's jerk chicken, pork, fish and beef, and several great spots on the island to try it at. If you're looking to try Jamaican-Chinese (!) fusion, look no farther than Chinson's on Leeward Highway. Recent years have seen an emergence of Haitian restaurants, where plantains, fish, rice and vegetables are combined in spicy flavours.
Cultural and Culinary Festivals
In recent years, there has been an increase in the number of local culinary (and by extension cultural) festivals and events held throughout the islands.
The Conch Festival, Held in Blue Hills every year, is a celebration of everything conch and is the top Turks and Caicos cuisine event. On the last Saturday in November, local restaurants compete for the title of Best Restaurant. Admission is $25 per person, and includes samples from all attending restaurants.
The Caribbean Food and Wine Festival offers more of an international focus, with a gourmet culinary tour that spans several days and restaurants.
Deciding Where to Eat
Providenciales offers a great extent of restaurants to choose from. Most establishments are located in the Grace Bay area, and within walking distance of many resorts.
Dining prices tend to be higher than equivalent restaurants in much of the United States, yet are on par with cities such as London and New York.
We recommend you look through the local Dining Guide magazine published by the editors of the Where When How magazine. This excellent guide has a listing of all restaurants on Providenciales, and includes a sample menu with prices. It's free and will likely be in your hotel room when you arrive.
Great Turks and Caicos Restaurants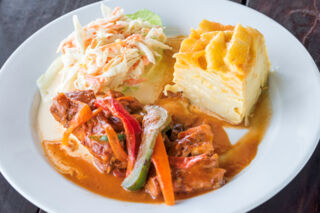 Mangrove Bay Restaurant is a Turks and Caicos cuisine establishment near Downtown on Providenciales, and specializes in fresh local seafood dishes. Enjoy island favourites such as whole steamed fish, pea n' rice, BBQ, souse, conch, lobster, and more.
Learn More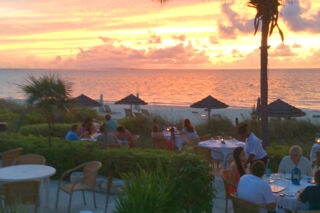 Beachfront restaurant at the Sibonné Hotel. Serves freshly caught seafood and freshly made desserts and ice cream. Open for breakfast, lunch and dinner.
Learn More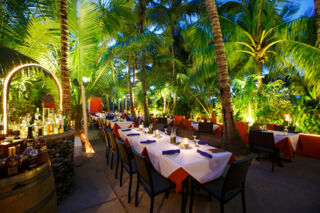 Coco Bistro is one of the best loved Turks and Caicos gourmet restaurants, and is located in central Grace Bay. The restaurant serves a wide menu of international dishes. Reservation recommended.
Learn More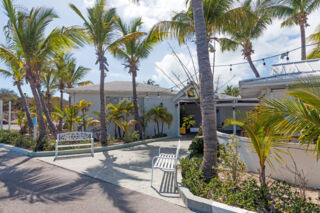 Restaurant in Turtle Cove featuring local inspired dishes and seafood.
Learn More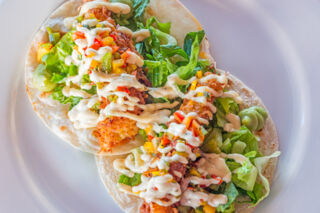 Located at Neptune Villas on the scenic Chalk Sound lagoon, Las Brisas Restaurant offers Caribbean Mediterranean fusion dining. Serves lunch and dinner.
Learn More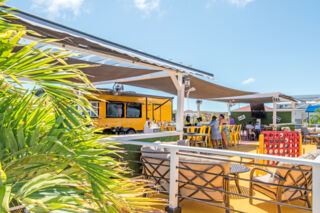 Crackpot Kitchen is a popular Turks and Caicos cuisine restaurant, located in the heart of Grace Bay at Ports of Call plaza. Discover a wide menu of locally caught seafood and Caribbean favourites.
Learn More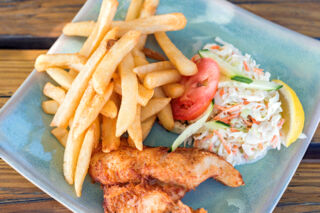 Chinson's Grill Shack is a popular restaurant on Leeward Highway, and serves a menu of Jamaican Jerk, Caribbean BBQ, and Chinese dishes.
Learn More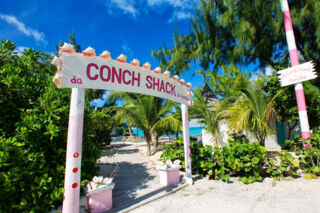 This popular open-air beachfront restaurant specializes in locally harvested conch, seafood and Caribbean dishes including jerk chicken and ribs. Local bands play every Reggae Wednesday. House-made desserts include Key Lime Pie, Ginger Cheesecake and Rum Cake. Family and group friendly.
Learn More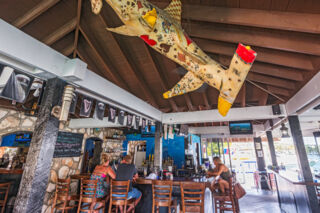 Sharkbite Bar and Grill is located on the water at Turtle Cove Marina. This popular casual restaurant serves seafood, wings, burgers, sandwiches, and much more.
Learn More
Last reviewed by an editor on 22 May 2020.