Providenciales
All-inclusive Resorts
The Turks and Caicos has several great all-inclusive resorts to choose from, with ambiances and settings that range from the expansive and family favorite Beaches Turks and Caicos, to the adult-only Club Med Turkoise, as well as many smaller boutique and luxury accommodations with all-inclusive packages.
An all-inclusive can be the right choose for visitors seeking to simply relax at the beach or pool, with butler service and easy access to dining and refreshments.
Find the Perfect Turks and Caicos All-inclusive Resort
Providenciales is home to much of the tourism development in the Turks and Caicos Islands, and most of the all-inclusive options in the country.
Many of the all-inclusive resorts either include or are able to arrange excursions offsite for golf, yacht charters, scuba diving, eco-tours, and day trips to our outer islands.
All-inclusive Resort on Grace Bay and Providenciales
Providenciales is the main tourism island in the Turks and Caicos, and there are six all-inclusive resorts to choose from.
Beaches Turks and Caicos is by far the largest and best known, and is an enclave of several 'villages', including the Caribbean Village, Key West Village, Italian Village, and French Village. Beaches is a great family resort, and has an impressive collection of pools and things to do, including the only water park in the country. The complex also boasts of an impressive 21 restaurants, with a full range of cuisines.
Club Med is the oldest resort still operating in the Turks and Caicos, and is an expansive adult-only hotel with great rates. There's quite a lot to do, with complimentary snorkeling and diving trips, a selection of non-powered water sports equipment, and nightlife.
The Turks and Caicos Collection combines three luxury resorts, The Alexandra, Beach House, and Blue Haven Resort. Guests are able to access amenities and dining across sites, so it's almost like staying at three resorts. Each location brings a different yet nevertheless beautiful beach, and there's complimentary transport between locations.
A new, smaller, and tranquil all-inclusive, Kokomo Botanical Resort, combines gourmet and fresh dining and full butler service, with great rates. The resort isn't located on the beach, yet does have constant and complimentary transport to their own beach club site at the excellent Bight Beach.
All-inclusive Resorts Outside of Providenciales
There are three all-inclusive options outside of what's offered on Providenciales.
The Meridian Club is a quiet and laid-back resort on the private island of Pine Cay, and the island and resort hails back to different time, with a Hemingwayesque ambiance.
On the island of Grand Turk, the small yet select Bohio Dive Resort on Pillory Beach offers some limited all-inclusive packages for both scuba divers and non-divers. Dinner isn't typically included with the resort's all-inclusive deals, yet some offsite boat tours and scuba diving usually are.
Ambergris Cay Resort is the newcomer to the all-inclusive selection, and was recently taken over by the Turks and Caicos Collection group of resort. This exclusive private island retreat offers a unique and luxury experience.
Is an All-Inclusive the Best Choice?
Due to the high regional crime rates in the Caribbean, all-inclusive resorts are very popular and make sense in many regional countries such as Jamaica, Mexico, and the Bahamas. Fortunately, the Turks and Caicos is one of the safest destinations in the Caribbean, and consequently the considerations of an all-inclusive stay are a little different.
Staying at an all-inclusive resort is not necessarily the best choice in the Turks and Caicos, but it may make sense depending on how you like to spend your vacation and what your budget is.
The total costs for an all-inclusive stay will usually be higher than the costs of a typical vacation, yet dining and activity choices can really close the price gap. Restaurants and food in general are quite expensive in the islands, and three prepared meals and drinks per day plus drinks can really add up. In addition, some amenities offered by the all-inclusive resorts, such as complimentary scuba diving and spa treatments at Beaches Turks and Caicos, can make an all-inclusive resort a good choice from a financial perspective. For parents looking for some time to relax, the water park and tremendous range of activities for kids at Beaches can make the resort a great choice for families.
Couples and adults may prefer the adults-only Club Med, which tends to have a bit more nightlife activity than most other accommodations in the country.
Both Beaches and Club Med are located directly on Grace Bay, and offer rooms and suites with stunning ocean views.
Another consideration is location and ambiance. Some resorts in the country are found on remote and stunning locations, which may not be easily accessible if not staying at an onsite resort. Examples include COMO Parrot Cay Resort at Parrot Cay, the Meridian Club at Pine Cay, Amanyara at the Northwest Point Marine National Park, and Ambergris Cay Resort at Ambergris Cay.
Beaches Turks and Caicos
The expansive Beaches Resort is located in central Providenciales on the western side of Grace Bay. Fronting the resort is a great stretch of the world-famous Grace Bay, and the beautiful and vibrant Bight Reef snorkeling site is an easy walk away. The complex features four "village" enclaves, each with a slightly different theme. There's a wonderful selection of water sports and activities to choose from, along with a water park, 6 swimming pools, and 20 restaurants and bars. Beaches is a great choice for families and children due to the countless things to do.
Of all the Turks and Caicos all-inclusive resorts, Beaches offers the greatest selection of restaurants and dining, along with the most convenient food and drink policies.
Diving and boat cruise excursions to the exquisite uninhabited cays around Providenciales are typically included with accommodation packages.
Unlike most other hotels and resorts, a free shuttle to and from the Providenciales International Airport (PLS) is included in your stay, which simplifies arrival and check-in.
Club Med Turkoise
The oldest still-operating accommodation on Providenciales, Club Med is an expansive adult only resort with a great range of things to do and nightlife. It's found on the eastern side of Grace Bay, at one of the best stretches of the beach.
This site offers a very wide selection of included water sports, and there's always a party going on. There are several cruises and boat tours, including a weekly group Hobie Cat sail to Half Moon Bay Beach in the Caicos Cays.
The average room at Club Med can be a little small and dated compared to other Grace Bay resorts, yet everything considered, the rates are some best values to be had on Provo.
It's also possible for visitors not staying at Club Med to buy a day or evening pass, which allows access to the resort's activities and attractions.
Kokomo Botanical Resort
Kokomo Botanical Resort is a small all-inclusive retreat in central Providenciales, with cottage accommodations hidden amongst lush landscaping. Amenities and inclusions range from butler service, beach transfers, a beach club that's complete with loungers, umbrellas, towels, and water sports equipment, and gourmet dining at the WE GRILL + WOK restaurant and wine bar.
Kokomo is a great choice for families and couples that seek an all-inclusive experience, yet do want to get out and explore on their own. One such example is that guests can opt for a bento boxed lunch instead of dining in, which is perfect for the beach or day trip.
Onsite at Kokomo is a chemical-free saltwater pool, full time butler service, and concierge that can assist with booking tours and adventures in the Turks and Caicos.
Turks and Caicos Collection
The Turks and Caicos Collection of all-inclusive resorts on Providenciales includes Beach House, the Alexandra, and Blue Haven Resort. An interesting facet of the Turks and Caicos Collection is guests staying at one of these three resorts has full access to the counterpart resorts, including the onsite restaurants. There's convenient and complimentary transport provided between the resorts as well.
These three resorts each bring a different yet breath-taking beach setting. The Beach House is hidden on a calm section of the Bight Beach and within an easy walk of some great snorkeling reefs. The Alexandra beachfront on central Grace Bay, and Blue Haven Resort has its own private beach at Leeward, which is a short kayak or paddle board journey from the nature sanctuary of Mangrove Cay and the Princess Alexandra Nature Reserve.
The Turks and Caicos Collection on Providenciales combines 9 restaurants and bars, and a spectrum of cuisines.
Ambergris Cay Resort, located on the remote and secluded island of Ambergris Cay and also part of the Turks and Caicos Collection, is likewise an all-inclusive property. Ambergris Cay is found on the remote south-eastern side of the Caicos archipelago, and offers a unique and laid-back, yet elegant character. The island is a reserve for many critically-endangered endemic Turks and Caicos creatures and plants, including our rock iguana, the iconic Turks head cacti, our tiny and harmless miniature boas, and several smaller lizards and reptiles that are only found on a few islands on earth.
Meridian Club
The Meridian Club, a small boutique retreat on the private island of Pine Cay, offers an all-inclusive package that includes meals and airport transfers. Drinks are not included, yet a snorkel tour and access to many amenities is.
Pine Cay is a unique and beautiful island, and boasts of one of the finest beaches in the Turks and Caicos, and the island is surrounded by natural beauty. On its eastern side is the scenic and uninhabited Fort George Cay, which is famous for its beaches and expansive sand bars, and to the west of Pine Cay is the incredible and likewise uninhabited Water Cay, which offers miles of perfect white sand beach.
There's plenty to do on the water around Pine Cay, including snorkeling, scuba diving, Hobie Cat sailing, kayaking, and paddle boarding, and more. The island is also an amazing location for wade bonefishing, with extensive flats leading of the southern side of the island.
Things to Do in Turks and Caicos
The Turks and Caicos is of course one of the leading Caribbean beach destinations, and our spectacular coasts are crowned by Grace Bay, one of the top beaches in the world. All-inclusive vacations can be great if you're looking to simply enjoy the beach, as most of our all-inclusive hotels are located on a prime stretch of coast.
Offsite activities and island day trips are also usually not included with all-inclusive packages. Other than non-powered water sports equipment use at the resort and some dive, snorkeling and boat cruise trips, you'll pay for anything else out of your own pocket. Whereas some hotels and resorts include tee time at the Provo Golf Club, the major all-inclusive resorts typically do not.
One of our top recommended activities for visitors to Providenciales is to take a day trip to one of the country's smaller islands. Spending a day away from your all-inclusive resort to visit another island or some of Providenciales's smaller beaches can diminish the value of your vacation package.
Rates and Accommodation Tax
A 7.5% or 12% (depending on the resort) government accommodation tax is applicable on all stays. This may or may not be included in posted rates.
A 10% service charge is also applicable.
All other taxes or service fees, including "city tax", are not government imposed.
Booking direct with the accommodation will usually give you the best price. Resorts will almost always price match rates found through agents or major online booking websites. It's advisable to research rates for your accommodation before booking, so you'll know what to ask for.
Some all-inclusive resorts in Turks and Caicos include complimentary airport transport, and others do not. In the case of the remote resorts and those on our outer islands, transport fees may be significant. Inquire when you book.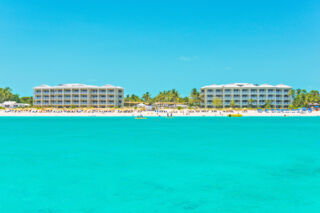 The tranquil Alexandra Resort is centrally located on the beautiful Grace Bay Beach on Providenciales. Choose from studios, 1, 2, and 4 bedroom suites. There's a wide range of complimentary water sports and luxury amenities for the perfect stay.
Learn More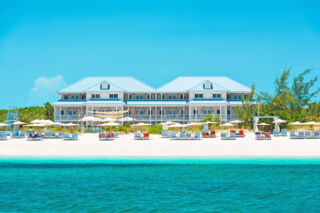 Beach House Turks and Caicos
21 luxury suites are situated right on the western end of Grace Bay Beach. Complimentary use of kayaks, paddle boards, and Hobie cat sailboats are included.
Learn More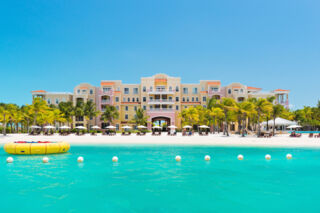 Blue Haven Resort and Marina is a luxury property located in the tranquil Leeward region of Providenciales. Blue Haven is the first and only resort and marina in the Turks and Caicos Islands, and features a small private beach.
Learn More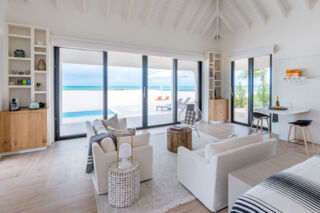 Ambergris Cay Resort is a unique all-inclusive resort on the secluded private island of Ambergris Cay. This exclusive retreat offers luxury villa accommodations and five-star dining amidst a beautiful island atmosphere.
Learn More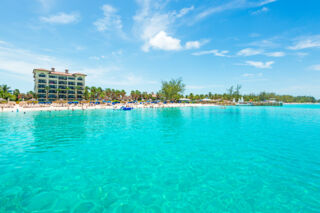 By far the largest and the only family-oriented all-inclusive in the country, Beaches Turks and Caicos offers a truly impressive spectrum of activities, water sports and dining options. Located on the west end of Grace Bay Beach, the reefs off the Bight Beach are within walking distance. Unlimited diving is included with your stay at Beaches.
Learn More
This dive resort offers twelve rooms and four suites on the secluded Pillory Beach. An excellent choice for divers, this resort offers boat and shore diving, PADI courses, water sports and more.
Learn More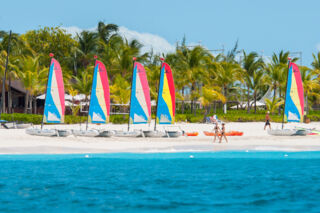 The oldest still-operating hotel in the Turks and Caicos, Club Med is also the single adults-only all inclusive. Geared to those that love the nightlife and active lifestyle, a wide array of water sports and entertainment is offered here. Club Med is situated on the excellent eastern end of Grace Bay Beach. Dive packages are available.
Learn More
East Bay Resort features 86 modern ocean-front suites featuring breathtaking views of the white beach and turquoise water. A range of water sports and activities are offered, including kayaking, snorkeling, diving, fishing and kiteboarding.
Learn More
The Meridian Club is a unique and laid-back resort on the private island of Pine Cay, and is ideally-situated on a spectacular and secluded beach. This small resort offers a poolside restaurant, a spa, and a wide array of outdoor activities.
Learn More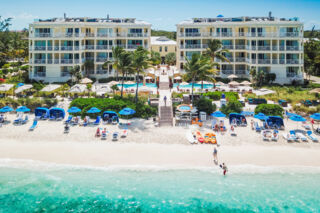 The Windsong Resort is located at the western end of Grace Bay Beach and near the Bight Reef snorkeling site. Enjoy a great beach and ocean views, the onsite Dune restaurant or Drift Spa, and a plethora of water sports. Select from one, two, three, or four bed rooms.
Learn More
Last reviewed by an editor on 1 June 2020.