Turks and Caicos
Nightlife
Discover Nightlife in Turks and Caicos!
The Turks and Caicos has rightfully gained a reputation as a tropical destination with spectacular beaches, and has consequently attracted a great collection of luxury resorts and villas. There's likewise a wealth of fun and exciting outdoor and ocean activities to occupy the day.
The nightlife options in Providenciales and the Turks and Caicos haven't yet caught up to match however, so those that seek a vibrant night scene may be better served at another Caribbean destination.
As the main tourism island in the country, Providenciales offers the greatest selection of things to do. Bars and small nightclubs are the most popular local way to have a night out, yet beach BBQs, bonfires, sunset cruises, and special events are also well attended. On Thursdays, a Fish Fry is held in the Bight (near to the Grace Bay tourist area).
Several of the larger all-inclusive resorts, including the adult-only Club Med Turkoise, and the expansive Beaches Turks & Caicos, feature more of a party environment, with shows and dance clubs that operate well into the night and early morning.
The Turks and Caicos also hosts a few annual events that offer an incredible and unique experience. The New Year's Eve fireworks display is the most impressive, yet the street celebrations and beach events are also fun. As is the case throughout the Turks and Caicos, entry to the beach, where the best view of the fireworks can be had, is free!
Many local bars arrange special events, which include everything from quiz nights and karaoke, to disco and throwback parties. Many establishments also have regularly scheduled live bands and musicians on a night or two per week.
In the Grace Bay area of Provo, some of the more lively nightlife locations are Danny Buoy's Pub and Restaurant and Ricky's on the Beach.
Sunset and glowworm evening boat cruises are one of our must-do activities, and there are many vessels and ambiances to choose from, including party boats and romantic sailboats. Sunsets always look spectacular from the water, and you'll never know what the display will be.
If you're looking to get away from the hotels and resorts, Providenciales has several great oceanfront and waterfront places with a fun outdoor ambiance, including Da Conch Shack, Bugaloo's Restaurant, Bob's Bar, and Sharkbite. These establishments are popular with locals and visitors alike and are perfect for delicious food or just drinks. There's often live music on several nights per week too.
Casinos
Gambling is legal in the Turks and Caicos Islands. There are two main casinos, The Casino at the Ritz-Carlton and Casablanca Casino. A number of other entertainment venues and bars feature slot machines.
The Casino at the Ritz-Carlton is Providenciales' newest gaming establishment, having opened in July 2021. This 5,500-foot property features 9 different table games, along with a wide selection of slow machines. It's located in central Grace Bay at The Ritz-Carlton.
Casablanca Casino, located in the heart of Grace Bay, has been operating for decades and features a range of live table games and slot machines.
Cinemas
As with the other aspects of nightlife, the Turks and Caicos comes up a bit short when it comes to cinemas.
The only option today are the outdoor movies that a few of the resorts put on occasionally. Blue Haven Resort's Movie Night, hosted oceanfront at Leeward, is the primary event.
In the past, there were two cinemas on Providenciales. 'Village Cinema', located near Venetian Road in central Providenciales, shut down after a fire completely destroyed the complex. This was followed by TCI Cinemas (later renamed 'L-Raye Cinema'), which closed down in 2014, presumably due to a lack of an audience and competition from Netflix and other streaming services.
Theater and the Performing Arts
The local Turks and Caicos Islands Friends of the Arts Foundation produces several unique plays and musicals per year.
Tickets are generally quite reasonably priced, and the features usually take place at Brayton Hall, a purpose-built venue at the local British West Indies Collegiate high school. Tickets can be purchased at several locations on the island, and at the Unicorn Bookstore (near the Graceway IGA supermarket). Visit their website for a program schedule and ticket information.
Featured Nightlife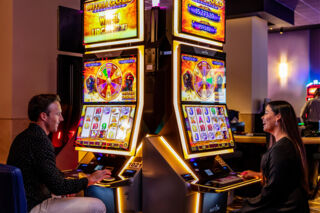 The Casino at the Ritz-Carlton
The Casino at The Ritz-Carlton, Turks & Caicos features nine traditional table games, including blackjack, craps, roulette, baccarat, three card poker, and ultimate Texas hold'em, as well as a wide selection of slot machines.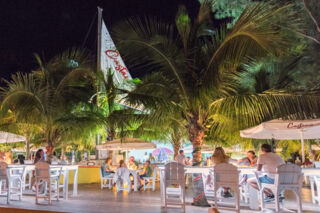 Castaways Conch Bar & Island Grill
Castaways is a seafood and Caribbean restaurant and bar, and is located in central Grace Bay. The restaurant features live music several nights per week, and has a unique coconut grove ambiance.