Providenciales International Airport (PLS)
Transfers & Transport
The Providenciales International Airport (PLS) is located in the central Downtown region of the island of Providenciales, which is about 7 miles (11 km) and a 10-15 minute drive from the resorts of Grace Bay Beach.
The transport options from the airport are limited to car rentals, taxis, private transfers, and in a few cases, shuttle and transfer services provided by accommodations.
There's no public transport or bus service on Providenciales or any other island in the Turks and Caicos.
If you're looking to get through the airport with as little delay as possible, consider the Fast Track service, which provides expedited processing through immigration and customs.
Private Transfers
Private vehicle transfers, or luxury VIP transport as they are more commonly known as, are pre-scheduled car hire, with pick-up at a specified location. For airport arrivals, VIP transport services usually meet guests directly outside of the arrival at the airport, and whisk them away to waiting vehicles with little delay.
Providenciales has several businesses that provide private transfers by upscale SUVs such as Chevrolet Suburbans, Cadillac Escalades, GMC Yukons, and Toyota Sequoias.
Private transfer vehicles are differentiated from taxis in local law in that they must be pre-booked and not hailed on the street—much like Uber or Lyft in most US states.
Fares for a private luxury transfer from the airport to Grace Bay are typically $120-135.
Group Transport
Due to the way taxi drivers typically calculate rates, it's often viable to consider a private car service when traveling in groups of 4 or more for airport transfers, as taxis and private transfers will often have comparable rates for larger parties, and the private car service typically has great service and no wait.
Taxis
Taxis are readily available at the Providenciales airport.
Unlike many other destinations, taxis in the Turks and Caicos are usually large passenger vans, and ride-sharing is typical. From the airport, multiple fares going to the same or adjacent resorts are often combined per ride. This practice can cause wait times of 5-15 minutes.
Fares for two persons (rides will often have other paying customers as well) to central Grace Bay are around $50.
Car and Jeep Rentals
Many car rental companies advertise airport car pick-up, yet the service ranges from actual onsite car collection, to situations where arriving customers wait and are then shuttled away by passenger van to the rental agency's offsite facilities, where the paperwork and pickup occurs.
Picking up your car directly at the airport typically reduces wait and processing times.
Generally, the fastest service and vehicle pick-up is had through the boutique car and jeep rental companies, as there's typically an agent available for every arriving party, and the vehicles are available at the airport parking lot.
Renting a car or jeep is typically the least expensive transport option for the typical stay in the Turks and Caicos.
Resort Shuttles and Pickups
A few of the larger resorts provide an airport transfer service, which may be complimentary or at an additional cost to the accommodation stay. Legally, such services operate in much the same manner as a private transfer, in that they must be scheduled in advance of service. Airport transfers qualify, as the local accommodation are expecting the guests.
The transportation offered varies quite a bit. The expansive Club Med all-inclusive resort operates a large bus, some hotels simply make arrangements with a taxi, and a few of the more exclusive retreats have their own fleets, such as the remote Amanyara resort's collection of Land Rovers.
In the case of the luxury resorts found on the cays and island near Providenciales such as the COMO Parrot Cay Resort and the Pine Cay Resort on Pine Cay, land transport to the ferry dock at Leeward on Providenciales is typically arranged by the resort. We advise clarifying the situation with your accommodation before arrival.
Local Businesses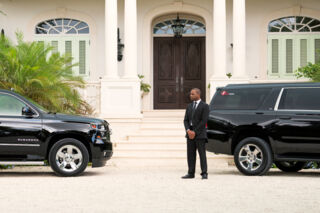 Fast Track Transport is a luxury private car service, with punctual and impeccable rides via Chevrolet Suburban SUVs or BMW 5 Series cars. VIP car service is perfect for airport transfers or general transportation needs at Providenciales and Grace Bay.