Turks and Caicos
Driving Information
The Turks and Caicos consists of several inhabited islands, and cars are the main means of transport for residents and visitors alike. There's no train, bus, or subway service in the country.
We recommend that most visitors to the Turks and Caicos Islands rent a car for the duration of their stay, as there's no public transport on any island in the country. The distances between most sights, beaches, and attractions are often too far apart for pleasant walking and cycling, and taxis tend to be quite expensive.
Rental cars may not be needed for guests staying at an all-inclusive resort, or for short stays in the central Grace Bay area. Some luxury vacation villas also offer complimentary transport or car use.
Unfortunately, there is little enforcement of road rules by the police, and this can make driving in the Turks and Caicos unsafe and unpleasant at times. Many cars on the road are not registered, do not have license plates, lack insurance, and are driven extremely recklessly. This is especially common with the operators of illegal jitney taxis, which the Government does not regulate and chooses not to enforce the rules against. For example, these illegal taxis will stop in the middle of the multi-lane Leeward Highway to pickup passengers and it's common to see road accidents caused by these actions. You are advised to remain vigilant when driving, keep a safe distance, and be prepared to stop suddenly.
Driving Licenses and Rental Requirements
You will need a valid driver's license to rent a car or drive in the Turks and Caicos. An International Driver's Permit (IDP) is not required, unless your license is in a language other than English.
Typical Rental Requirements
The minimum driving age is usually 25 (18 for scooters).
A valid driver's license is required.
Some companies may have additional requirements.
Fuel Costs
Gasoline is quite expensive in the Turks and Caicos at around $6.11 a gallon (2023 on Providenciales). However, most of the driving distances are quite short so fuel usage isn't great, and the high price isn't too noticeable.
General Driving Information
We drive on the left, as in the United Kingdom. However, most cars are imported from the United States (which are left-hand steering). In addition, school buses and other shuttle buses are also typically imported from the United States, which results in passengers being unloaded directly into traffic lanes. It's important to be aware of these buses when driving in the Turks and Caicos.
How to Use Roundabouts
There are many roundabouts on Providenciales, and navigating these road features can be a point of confusion for some tourists. When using roundabouts, these general rules apply:
Always give way (yield) to traffic on your right. This is traffic already in the roundabout.
Once inside a roundabout, you generally do not stop (unless atypical traffic conditions force you otherwise, or for emergencies).
You must use turn signals at all roundabouts, unless you are continuing straight in a mini-roundabout (see Roundabout A in the diagram).
If you are taking the first left, enter the roundabout with the left turn signal flashing.
If you are turning right or doing a full circle (looping back), enter the roundabout with the right turn signal flashing.
If you are continuing straight or taking another intermediate exit, you normally do not enter the roundabout with a signal flashing.
For all driving at full-size roundabouts, signal left once you have passed the exit before your desired exit, to indicate that you are exiting the roundabout.
For full-size roundabouts that have two lanes inside, you generally stay in your lane, and only cross over to exit the roundabout.
Examples of common roundabout usage (usage shown in the diagram below displaying actual roundabouts on Providenciales):
Continuing straight (mini roundabout): See the blue and pink cars in Roundabout A.
Continuing straight (full-size roundabout): See the red car in Roundabout B and blue car in Roundabout C.
Turning left (all roundabouts): See the pink car in Roundabout B.
Turning right (all roundabouts): See the red car in Roundabout A and the blue car in Roundabout B.
Looping back (U-turns or 180°) (all roundabouts): See the red car in Roundabout C.
Signs
Until 2011, there were few direction signs on Providenciales. Due to a failure of emergency services to find locations (many times because streets and roads didn't have any names), the government implemented a program to name and put up signs for all roads in the country.
Some roundabouts have signs posted from all directions (this used to be most roundabouts, but hurricane damage resulted in sign losses which the government has not replaced). In other countries, the top line of text usually says the name or area of the roundabout, but the Turks and Caicos instead uses names of prominent people from the country.
For American and Canadian Tourists
We drive on the left. There are no stoplights in the country, and traffic is regulated through the use of roundabouts. When entering a roundabout, give way to traffic on your right. Once you are inside a roundabout, you have the right of way until you exit the roundabout. However, many drivers in the Turks and Caicos have their own interpretation of how to use roundabouts so be prepared to stop and give way to other drivers.
Slow traffic should keep to the left when traveling on Leeward Highway, which has two travel lanes in each direction.
Here are three British style road signs in use in the Turks and Caicos which might confuse North American visitors:
For British Tourists
The Turks and Caicos follows the UK Highway Code protocol. However, don't expect drivers to give you the same courtesy as in the UK, and always be prepared to stop or slow down for other drivers.
One note is that brown road signs in the UK denote an attraction, such as a zoo or castle. Green signs are reserved for primary routes. For some unknown reason, the Turks and Caicos has several brown road signs to denote local and primary routes, in addition to using the correct green (primary) and white (local) routes.
None of the few tourist attractions on Providenciales use the brown sign.
Scooters, 3-Wheelers, and Other Weird Vehicles
We don't recommend you rent a scooter in Providenciales and other non-car vehicles. This is because of a combination of poor drivers and sometimes poorly maintained roads. If you do decide to rent a scooter, it's highly recommended you stay within the Grace Bay area, as speed limits are lower and there is less traffic.
Cycling
We typically advise not to use bicycles as a primary means of transport in the Turks and Caicos, outside of limited usage in areas such as central Grace Bay, central Cockburn Town, or on Salt Cay. This is largely due to safety concerns caused by poor drivers, and poor road conditions.
Parking
It's no problem parking in the Turks and Caicos Islands. Nearly all businesses and hotels have free on-site parking.
Parking at the Providenciales International Airport (PLS) isn't free. All other parking, such as in the Downtown and Grace Bay areas on Providenciales, at resorts, and throughout the other islands, is free and readily available.
Beware of Other Drivers
Driving in some parts of the country, such as Providenciales, can be somewhat dangerous due to reckless drivers and lack of police enforcement of road rules. There are many poor drivers who routinely exceed the speed limits and drive recklessly and without due care and attention. This is especially common with Haitian immigrants, who are the typical operators of illegal, unlicensed taxi services. Along with more official looking (usually) illegal mini-van 'bus' services, these drivers will stop directly in traffic lanes to pick up additional passengers, and in addition, will cut directly in front of you to re-enter traffic or for turning.
These illegal jitney taxis are typically older-model sedans, often with illegible license plates or missing plates altogether. Unless they have a full load of passengers, they will typically drive well below the speed limit as they scan for potential customers.
Your best course is to keep a safe distance to drivers in front of you (much more than US or UK recommended lengths), and be ready for cars to stop suddenly or cut in front. In addition, ensure that you stay within the speed limit as several roads have hidden hazards, such as difficult-to-see speed humps (speed bumps) and pot-holes due to poor maintenance.
Traffic laws, such as speed limits and laws governing the use of roundabouts, are not generally enforced to any significant degree. There are no official statistics, but our estimates are a road fatality rate per 100,000 of 12.7, roughly equal to the United States at 12.3 and significantly higher than the United Kingdom at 2.7. Unfortunately, road deaths are on the rise. You are advised to be extremely vigilant when driving and give other drivers plenty of space. Always be prepared to stop suddenly for illegal taxis, drivers cutting in front, and improper use of roundabouts.
If you're planning to drive off the beaten path, you may be interested in reading our section on safety and crime.
Turks and Caicos Car Rental Companies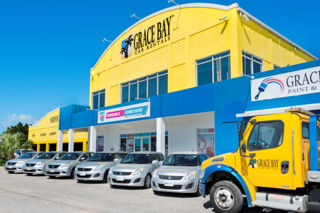 Grace Bay Car Rentals has one of the largest fleets in the Turks and Caicos, with a wide selection of car, minivan, SUV and 4x4 options. Delivery or pickup from your accommodation or the airport included. The main Grace Bay office is located within easy walking distance of most resorts on the island.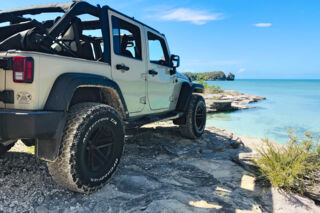 Explore Providenciales by Jeep Wrangler! Our premium and modern soft top jeeps are the perfect complement to a vacation in the Turks and Caicos. Discover beautiful and secluded beaches. Personal, friendly, and professional service.
Information Specific for Each Island