In the Turks and Caicos, there are two types of transport that could be loosely defined as a "taxi", with available services ranging from conventional taxi vans to private car services.
Private Car Service
Private car services are a popular and luxurious way of getting around, and are typically upscale and newer SUVs, such as the Chevrolet Suburban, Cadillac Escalade, Lincoln Navigator, Land Rover Range Rover, GMC Yukon, or the Toyota Sequoia.
Airport Transfers
Although they may initially appear expensive, a private car service can actually be a decent value in many situations due to the fact that their fares are per car, and not per person like most conventional taxis. For groups of 4-6, it may actually be less expensive for the car service. This is especially the case for transfers from the Providenciales International Airport (PLS).
Another consideration is wait times. Taxi trips originating from the airport are typically shared, and there may be a wait before departing. A luxury car service is private, and drivers will meet guests directly outside of the arrivals gate for a speedy departure, which saves time.
Taxis
What's most commonly referred to as a taxi in the Turks and Caicos is typically a large passenger van, with rates that are usually charged per person. Rides may be shared, especially for journeys originating at the Providenciales International Airport (PLS).
Taxi service is available on Providenciales, Grand Turk, and North and Middle Caicos. Rates are considered by most to be quite expensive, and for two persons traveling from the Providenciales airport to a hotel or resort in Grace Bay, the charge should be around $30, yet drivers may demand more.
Taxis are typically large passenger vans, such as the Ford E-Series or Chevrolet Express vans, which are capable of seating anywhere from 9-15 people.
The Turks and Caicos Government sets fare limits for most taxi journeys. Sometimes, these limits are exceeded, so it's best to confirm with your taxi what the total will be for your journey (including all passengers) before departing.
Taxi fares operate in that the first two people each pay the full fare (examples shown below), and additional persons pay a half fare.
Shared Airport Taxi Shuttle Fares
These are prices for shared taxis, in a queue.
There may be other passengers in the taxi.
These fares are not applicable to pre-booked, private taxis, which are higher.
Price each for first two people, additional people pay half rate each.
Distance
Price
Airport to Turtle Cove
$16
Airport to Graceway IGA Supermarket
$20
Airport to Beaches Resort
$27
Airport to Most Grace Bay Resorts
$28
Airport to Shore Club at Long Bay
$45
Airport to Chalk Sound
$36
Airport to Blue Haven at Leeward
$43
Airport to Amanyara Resort
$86
Taxi Queues
Taxis may be scheduled in advance for a specific location, or can often be found waiting in queues at some specific locations throughout the Turks and Caicos.
On Providenciales, taxis can usually be found waiting at the Providenciales International Airport, at some resorts, and at the Graceway Gourmet and Graceway IGA supermarkets.
On Grand Turk, some taxis are usually waiting at the Grand Turk JAGS McCartney International Airport (GDT) and at the Grand Turk Cruise Center.
For North Caicos, there may be a limited number of taxis at the Sandy Point Marina, where the North Caicos Ferry lands.
Taxi and Transport Businesses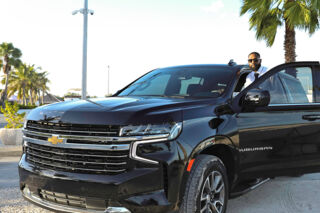 LIV Transport is a professional private car service, based on the island of Providenciales. The company provides punctual transport via elegant and modern full-size luxury SUVs. Services include Providenciales airport transits and general VIP car service for Grace Bay and the island.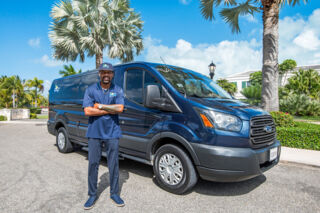 Sea Breeze Taxi and Tours
Sea Breeze Taxi and Tours provides reliable transportation services throughout the island of Providenciales. Specializing in airport pickup and drop-off, island tours, grocery trips, bar-hopping and much more.