Getting Around
South Caicos
South Caicos is quite a small island, with a total landmass of approximately 8 mi² (21 km²). Rental cars, bicycles, and walking are the main transportation options for visitors. There are no buses or public transport of any kind.
If you're stopping by South Caicos on a day trip, we highly recommend renting a car so that you'll be able to get to all of the main sights with ease. For some visitors (apart from those on a day trip), bicycles may suffice for everything other than visiting the beautiful coasts of the remote northern peninsula.
If you're arriving on South Caicos by air, be advised that the airport is located about 1.6 miles (2.5 km) north of Cockburn Harbour, and not within walking distance of any of the hotels or resorts. There is no taxi queue at the airport.
The passenger ferry from Providenciales arrives at Cockburn Harbour.
Car Rental on South Caicos
Two small car rental companies operate on South Caicos. Due to the low number of visitors to South Caicos, the selection of rental cars is quite limited. We advise arranging your vehicle well in advance of your arrival to ensure availability.
Nearly all of the roads in Cockburn Harbour (the main settlement) are paved. However, the routes out to the remote and scenic coasts of Highlands Bay, Long Beach, and Plandon Cay Cut Beach are unpaved and require a bit of care in a few places when driving due to loose rocks.
Although South Caicos isn't extensive, navigation can be a little confusing in places. We recommend printing our South Caicos map before your journey as road maps are not locally available.
Cycling
For those staying multiple days on South Caicos, bicycles can be a great means of transport for the central town and salina regions of South Caicos.
Elevation changes are minimal and most roads are easily traversed by bicycle.
As is the case throughout the Turks and Caicos, the sun and heat can be intense at times. Be sure to protect yourself from the sun and bring plenty of drinking water.
Road Conditions and Traffic
South Caicos is a very quiet place and doesn't have the multitude of reckless drivers that Providenciales has.
As a British Overseas Territory, we drive on the left. The maximum speed limit is 40 mph (64 km/h), yet the limit in settlements (which include nearly all paved roads on the island) is 20 mph (32 km/h).
For more information, including details specific to American, Canadian, and British drivers, see Driving in the Turks and Caicos Islands.
Key Points
We drive on the left.
Many drivers do not exercise due care and attention, especially operators of taxis (both legal and illegal).
Typical Rental Requirements
The minimum rental age is usually 21 or 24 (18 for scooters).
A valid driver's license is required. An International Driving Permit (IDP) is not needed, unless your license is not in English.
Car Rental Companies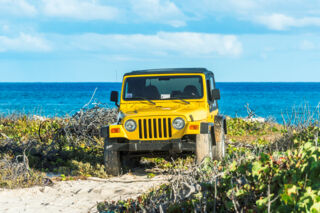 Harbour Adventures Rentals
Harbour Adventures offers jeep and scooter rentals on the island of South Caicos. Their rental shop is located 30 seconds away from the ferry port, and they offer free delivery and drop-off at villas, hotels and resorts.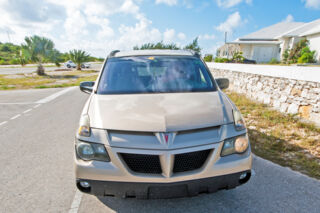 Seaview Supermarket & Rentals
Seaview Supermarket provides car and jeep rentals on the island of South Caicos. Due to the limited number of cars, it's recommended to book in advance to ensure availability.
Bicycle Rental Companies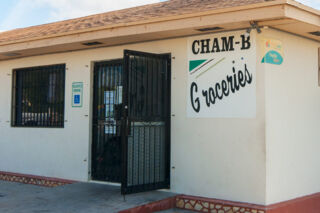 Found in central Cockburn Harbour near the main ferry dock, this little grocery store offers one of the largest selections of supplies on the island. Although mainly stocking dry goods, there is a small selection of fresh produce, dairy, and meats available. One of the best places on the island for purchasing cold drinks or snacks. Also provides bicycle rentals.