Turks and Caicos
Choosing a Rental Car
When visiting Providenciales and the other islands in the Turks and Caicos, a rental vehicle is usually the best choice for getting around. There are now many options to select from, including standard sedan cars, 4x4 jeeps and SUVs, scooters, buggies, and more.
Nearly all rental vehicles on Providenciales have automatic transmissions, and other than open-air vehicles, also have air conditioning. Listed rates usually do not include insurance and government tax. The government rental car tax is 12%. For cars, the minimum rental age is usually 25, although a few of the rental firms have a lower limit. Lower weekly rates are often available.
Four-wheel drive and high clearance vehicles are not required for anywhere other than a few stretches of road leading out to the beaches and the national parks on the west end of Providenciales. Nearly all of the roads in the tourist areas of Grace Bay, Leeward, The Bight, and Turtle Cove are paved. The majority of roads on Grand Turk are paved, as are the main roads on North Caicos and Middle Caicos. However, for those visiting South Caicos, North Caicos, and Middle Caicos, we do recommend that you rent an off-road vehicle as several great sights and attractions are located on unpaved roads.
Parking is generally free and readily available throughout the Turks and Caicos, including at resorts, shopping plazas, and street side. The only outlier is the Providenciales International Airport, which has $25 per day fees.
Common Vehicle Types
Scooters
Scooters will be the cheapest rentals and start at $40-$70 per day. Scooters are capable of carrying two people. We do not recommend driving scooters on roads with a speed limit higher than 20 mph (32 km/h), which limits you to Grace Bay, The Bight, Turtle Cove, and Leeward (which are the main tourist areas on the island and where the majority of shops and restaurants are located). We do not recommend driving scooters on Leeward Highway.
Compact and Economy-Class Cars
The compact and economy class of cars are the least expensive four-wheel options available and usually rent for $36-$50 per day. Although capable of seating four, they usually have little or no extra room for luggage. The compact and economy class vehicles on Providenciales are usually smaller than the equivalent class in the United States (many compact cars here are Suzuki Altos).
Standard-size Sedans
Mid-sized four-door sedans are the next step up and are generally the best option for most visitors. The daily rental cost is typically in the $50 to $70 range, and these cars will carry five passengers in addition to some luggage.
Minivans and High Occupancy Vehicles
Minivans are the obvious choice when it's necessary to seat more than five. Rates start at around $80 per day.
SUVs
SUVs and the larger four-wheel drives will usually be the most pleasant to drive here, but rental charges will be higher than other cars, beginning at $80-$90 for a standard SUV such as a Ford Explorer, and up to $120 for more luxurious models.
Off-road Vehicles
Small four-wheel drives are also available. Most of this class vehicles are basic Jeep Wranglers, but other lightweight 4x4s such as the Suzuki Vitara are also offered. These vehicles may be soft top convertibles, and typically carry four comfortably with little or no extra room for luggage. Rates are a bit more than other equivalent size cars and are about $80 per day.
Specialty Vehicles
Some of the local car rental agencies are now offering several unique vehicles, such as electric carts, dune buggies, and three-wheeled roadsters. Although these can be fun, consider the following before renting:
These vehicles usually provide very little or no protection against the sun and dust. Even when equipped with a canopy, sunburn is a usual occurrence.
Although small and technically simple compared to regular cars, these specialty vehicles usually rent at a higher rate than most cars.
Nearly all of these vehicles also offer poor crash safety. On the roads in Grace Bay and the Bight, this really isn't as much of an issue, yet is a concern on the 40 mph (64 km/h) Leeward Highway (most cars are driven faster). These vehicles also usually have very limited or no ability to lock up or secure valuables.
The Insurance Institute for Highway Safety (IIHS) in the United States does not recommend driving these vehicles on roads that also have regular car users, due to the fact that "they aren't designed to protect their occupants in crashes".
Car Rental Companies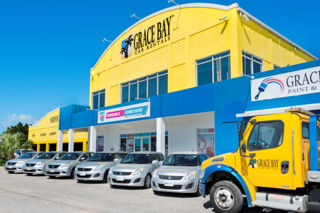 Grace Bay Car Rentals has one of the largest fleets in the Turks and Caicos, with a wide selection of car, minivan, SUV and 4x4 options. Delivery or pickup from your accommodation or the airport included. The main Grace Bay office is located within easy walking distance of most resorts on the island.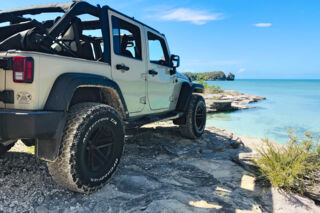 Explore Providenciales by Jeep Wrangler! Our premium and modern soft top jeeps are the perfect complement to a vacation in the Turks and Caicos. Discover beautiful and secluded beaches. Personal, friendly, and professional service.