16 Things to Know Before Renting a Car in
Turks and Caicos
Key Points to Know
When all taxes and fees are included, the lowest prices for rental cars in the Turks and Caicos starts at about $36 per day for a compact economy-class car. International booking websites that advertise much lower rates are usually being deceptive, as the rates they display do not include taxes and insurance.
We drive on the left, we use roundabouts, and there are many substandard drivers on our roads. Please read Driving in the Turks and Caicos.
For most visitors, renting a car for the duration of their stay, and picking up and dropping off the car at the Providenciales International Airport is the easiest and least expensive way to get around.
Grace Bay Car Rentals and Island Life Jeeps are located directly at the Providenciales International Airport, with fast and streamlined pick-up close to the terminal.
Jeeps and 4x4s are not necessary for most vacations, yet they are more fun to drive. For guests staying at Providenciales and Grace Bay, the remote west coast national parks are the only attractions or destinations where a jeep may be needed.
Check reviews! Some car rental companies and franchises on Providenciales don't have good reputations due to their practices regarding sand cleaning fees, delays with 'airport' car pick up and shuttles, not having reserved vehicles available, bait and switch practices, and extra credit card charges. The rental companies with the lowest advertised rates online are typically not the least expensive option when all fees and taxes are included.
The Situation with Airport Pick Up and Airport Locations
Many local car rental companies claim an 'airport location', yet there's a huge variance in what the situation may actually be. In some cases, rental vehicles will be onsite at the airport complex, and customers are able to finish any necessary paperwork and collect their cars at the airport. In other cases, the rental company will shuttle guests to an offsite location, which may be in the general Downtown area of Providenciales.
Wait times vary as well. A few boutique rental companies will have their customer's rental waiting within a short walk of the airport arrivals terminal, and typically have a representative available for each arriving party, whereas other agencies have queues of 20-30 minutes.
The 'International Brands' Are Just Local Companies That License the Trademark
In the Turks and Caicos, the rental companies that appear to be recognized and major US car rental brands are typically international independent licensees. Often, they're simply a local rental company that has a license to use the brand name and has access to the international booking engine.
In the case of any problems, corporate offices will typically not help in resolving any issues, especially over disputes regarding overcharging and added fees.
Many Car Rental Companies Operate Under Multiple Names
Many of the rental car companies on Providenciales are a business that basically operates under a local brand, as well as one or more of the international brands. This is largely done to gain access to the large booking networks and gain additional traffic.
It's advisable to research potential rental companies online prior to making reservations, yet be aware that reviews can often be false. It's often best to give special consideration to the negative reviews.
Rental Cars Are Usually the Least Expensive Way to Get Around
For the typical visit to the Turks and Caicos, a rental car is the best and least expensive way to get around. A single average return taxi trip will often cover the cost of an economy-class rental car for the day.
Budget travelers especially are advised to rent a car, although a car may not be needed for their entire stay. Many of the local tour companies provide free pick-up for customers, and for persons staying in central Grace Bay, there are many restaurants within walking distance.
Providenciales is a Small Island, and Car Rentals in Grace Bay
Providenciales is a very small island, and it doesn't make much of a difference where your rental agency is located. We generally advise that guests pick up their rental car at the Providenciales airport on arrival, yet if you'd rather not, most companies are able to provide a shuttle or car delivery service to your hotel or villa.
Several businesses have locations in Grace Bay and within easy walking distance of the resorts and hotels, including Avis, Tropical Auto Rentals, and Grace Bay Car Rental.
What Does it Cost to Rent a Car in Turks and Caicos?
Including mandatory taxes and fees, car rental rates in the Turks and Caicos starts at just under $40 per day for an economy compact rental car, with higher rates for full-size cars, SUVs, and jeeps.
Online, it's common to see featured rental prices at under $20 per day, yet these quotes are usually deceptive, and quickly rise once insurance and any fees and taxes are added.
All car rental companies on Providenciales and at Grace Bay require credit cards or debit cards to rent.
Be Aware of Cleaning and Sand Fees
Some rental companies charge additional cleaning fees, often associated with 'excessive sand'. What constitutes 'excessive' varies by business.
Some companies have developed a reputation for a liberal interpretation of this sand cleaning policy, and such businesses should be avoided to prevent extra surprise charges.
We Drive on the Left
In the Turks and Caicos, we drive on the left, have speed limits posted in miles per hour (mph), and have UK-style road signage.
The technically correct setup vehicle is UK spec, with the steering wheel on the right (right-hand drive), and a speedometer in MPH.
Unfortunately, we're unaware of any such rental cars in the Turk and Caicos. Most rental fleets are either American spec left-hand drive cars, or Japanese vehicles that are right-hand drive yet have speedometers designated in KPH.
We Use Roundabouts
We use roundabouts Instead of traffic lights.
Once understood, roundabouts are simple to use. See Driving in the Turks and Caicos for a detailed explanation on usage, including information on how to signal and who has right of way.
There are Many Poor Drivers in Turks and Caicos
There are many hazardous and dangerous drivers in the Turks and Caicos. It's best to be alert when on the roads, especially around jitneys (small unlicensed taxis that are typically poor-condition compact sedans) and taxis, and during late hours.
The driving situation is better than in most other Caribbean countries, but many local drivers, especially operators of illegal jitneys, drive with little regard for other users of the road.
Due to hectic and dangerous driving, we advise not driving scooters on the 40 mph (64 km/h) highway.
Stay on Established Roads
It's easy to get stuck or damage your vehicle when driving off-road.
It may be tempting to drive on the beach or on some of the saline mud flats, but please don't. In addition to causing long-lasting environmental damage, these terrains can be deceptively inviting, yet treacherous.
The calcareous beach sand in the Turks and Caicos is usually quite soft, and can bog down even capable four-wheel drive vehicles. Please don't drive on the beach.
The high salinity mud flats and wetlands found throughout the Turks and Caicos are another terrain to avoid. These flats often have a surface layer that appears hard, yet has a mixture of soft mud and brine below. Cars and jeeps will simply break through the upper layer and become mired in a foot or two of corrosive slime. In the past, rental jeeps have been written off and renters have been held liable due to damage caused by driving in saline wetlands.
Don't Leave Valuables Unattended in Your Car
Cars are occasionally broken into on Providenciales. It's advisable to not leave any valuables or anything that appear valuable in a vehicle unattended, especially at remote locations or events such as the Thursday Fish Fry.
Some locals advise simply leaving nothing in the car, and not locking doors, to prevent windows from being broken.
Damage caused by criminals often isn't covered by insurance.
Minimum Car Rental Age in Turks and Caicos
Nearly all car rental companies in the Turks and Caicos have a minimum driver's age of 25 years old for cars, and 18 years old for scooters. A couple of businesses on Providenciales are an exception and have a minimum age of 18 or 21 for cars.
What Type of Car Should You Rent?
There's an interesting selection of vehicles available to rent on Providenciales, including upfitted Jeep Wranglers, Mini Moke beach cruisers, 4x4 buggies, and luxury SUVs.
If your budget allows for it, a Jeep Wrangler or larger SUV is the most fun and comfortable, and what we advise.
For those trying to keep costs down, or are only staying for a few days, an economy-class compact car will easily get you everywhere you need to go.
Larger groups may need to rent a van (which is offered at most agencies) or two cars. Due to a lack of demand, pickup trucks are not offered by any of the local car rental companies.
Cars, jeeps, and SUVs will be the best choice for most visitors over scooters or buggies, as they offer sun protection and superior crash safety for highway use.
Most Rental Cars Have Automatic Transmissions
Most of the rental cars in the Turks and Caicos have automatic transmissions. A small number of economy-class cars on Providenciales have manual transmissions, and a few of the rental jeeps on our less populated islands are manual, yet those are the exception and not the norm.
Vehicle Availability May Be Limited During the High Season
The availability of rental cars is often limited during the high season, especially at the more popular rental companies. It makes sense to make your car reservations directly after your accommodation and flight bookings.
Bookings, Reservations, and Cancellations
As mentioned above, it's advised that you book in advance, especially if you'll be arriving during the busy season.
Cancellation policies vary greatly between the local companies, and you are advised to check an individual policy before booking.
Turks and Caicos Car Rental Businesses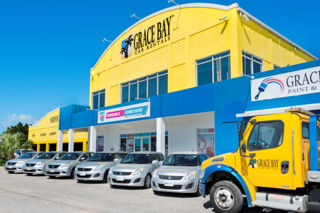 Grace Bay Car Rentals has one of the largest fleets in the Turks and Caicos, with a wide selection of car, minivan, SUV and 4x4 options. Delivery or pickup from your accommodation or the airport included. The main Grace Bay office is located within easy walking distance of most resorts on the island.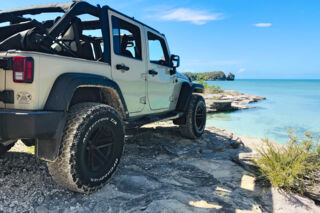 Explore Providenciales by Jeep Wrangler! Our premium and modern soft top jeeps are the perfect complement to a vacation in the Turks and Caicos. Discover beautiful and secluded beaches. Personal, friendly, and professional service.
Scenic Drives on Providenciales