Providenciales
National Parks & Protected Areas
The island of Providenciales is home to eight protected areas: three national parks, three nature reserves, and two protected historical sites. About half of the coast of Providenciales is under the protection of either a national park or a nature reserve.
National Parks, Nature Reserves, and Historical Sites do have varying degrees and types of protections, but taking or harming any animal, plant, historical item, or natural feature is generally prohibited from all protected areas. This would include fishing and shell collecting.
Although not protected in any way under the law, several other sites on Providenciales deserve either National Park or Nature Reserve status. Examples include The Hole and surrounding limestone formations in Long Bay and the partially collapsed giant sinkhole and cave near the airport (home to the majority of the island's bats).
Another example was the many extremely scenic sinkholes and small caves near Cooper Jack Bay Beach (probably the best location on the island for showing off features of the Karst process of dissolution), however, the Government approved the bulldozing and destruction of this site to make way for a residential development.
Tourism and Use of the National Parks
Unfortunately, many of the protected areas on Providenciales rarely experience visits from locals, let alone tourists. The primary reason for this is lack of access, however, limited knowledge and crime concerns also play a part.
When many of the protected areas in the Turks and Caicos were designated in the early 1990s, an excellent job was done on Providenciales identifying and selecting the varied and unique ecosystems and terrains to preserve. Areas such as the Frenchman's Creek and Pigeon Pond Nature Reserve reflect this fact, where an impressive diversity of landscapes can be seen.
Largely because the world-famous Grace Bay Beach is included in the region, Princess Alexandra National Park and the smaller nature reserve within it sees by far the most usage and appreciation of any protected area in the Turks and Caicos.
Basic Guidelines and Regulations
Strict regulations apply in all of the protected areas on Providenciales. Here are the most important regulations that are applicable in all protected areas:
A 15 mph (24 km/h) speed limit for power vessels is applicable in the protected area waters.
It is illegal to take any natural item or historical artifact. This includes seashells, animals, plants and flowers, coral, and sand.
It is illegal to harm or harass any wild animals or plants.
It is illegal to harm or damage any historical or natural feature.
Fishing and the collecting of conch and lobster is illegal and punishable by fines and/or imprisonment.
Open fires are prohibited.
No driving of any type of vehicle off of designated paths.
To camp in a protected area, written approval from the Director of the Department of Environment and Maritime Affairs (DEMA) is necessary.
As anywhere in the Turks and Caicos, littering and vandalism is against the law and punishable by fines and/or imprisonment.
For information on obtaining camping or fishing licenses, contact the National Environmental Centre.
For information on the environment, conservation, and threats, see Environmental Conservation.
National Parks, Nature Reserves, and Protected Areas
Princess Alexandra National Park
This highly important coastal and marine protected area is off the north coast of Providenciales and includes Grace Bay Beach, The Bight Beach, The Bight Reef, Leeward Beach, Smith's Reef, and a large portion of the northern barrier reef of Providenciales. This area also includes the iguana sanctuary of Little Water Cay and the wetlands islands of Mangrove Cay and Donna Cay.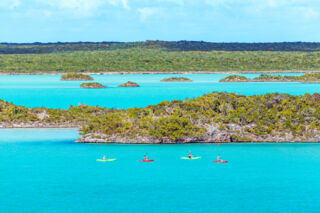 Chalk Sound National Park
Chalk Sound is a brilliant turquoise lagoon filled with hundreds of little rocky islands. On calm days, this is an excellent location for kayaking and paddleboarding. Many upscale residences and rental villas surround this scenic lagoon, and the beautiful Sapodilla Bay and Taylor Bay beaches are located nearby.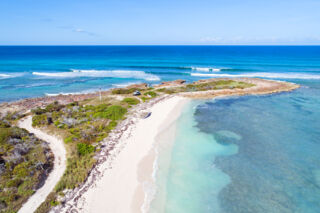 Northwest Point National Park
The remote and rugged limestone coastline of Northwest Point offers countless small coves and cliffs to explore. A great place to spend an afternoon, the interior ponds here are some of the best birdwatching spots on Providenciales. An especially impressive spot when the ocean swell is high.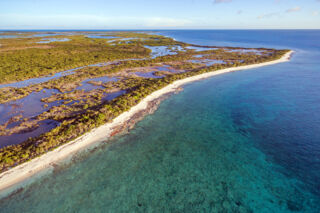 Frenchman's Creek and Pigeon Pond Nature Reserve
Frenchman's Creek and Pigeon Pond Nature Reserve is the largest section of protected land on Providenciales and covers an area that's roughly two by four miles. Several different types of local terrains are represented here, including mangrove wetlands, sandy beaches, sea cliffs and inland saline ponds.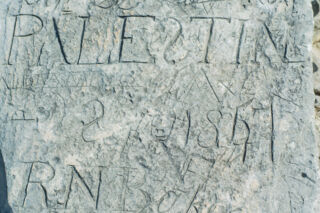 Sapodilla Bay Hill Rock Carvings
Found on a little hill overlooking South Dock, Sapodilla Bay Beach and Chalk Sound, this historical site still bears inscriptions from travelers and shipwrecked sailors from time past. There's not much left of the centuries-old rock carvings, but the views from this point are spectacular and are definitely worth the hike.
This quiet site is a window into the past of the Caicos Islands. Situated on a hilltop near the downtown area, Cheshire Hall offers the best-preserved plantation era ruins on Providenciales. Built by Loyalist planter Thomas Stubbs in the late 1700s, this site produced cotton and sisal for export.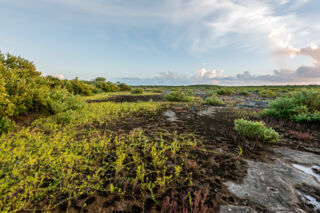 Located on the far eastern point of Providenciales, this trail leads through beautiful coastal and marine wetlands. The trail terminates near Bird Rock, offering great views over the Caicos Banks and the surrounding wilderness.
Maps of Protected Areas on Providenciales