Turks and Caicos
Nature & Outdoor Photography Guide
The Turks and Caicos is best known for its incredible beaches, yet outdoor and nature photographers will likely appreciate the full range of beautiful landscapes to be found, from the interior wetlands and dry forest, to the blue and turquoise channels at the remote cays. The development and watercraft around the popular Grace Bay Beach and other busy areas can get in the way of great landscape photos. On this page, we'll give you an overview of some of the other options in the Turks and Caicos for landscape, nature, and outdoor photography.
When venturing into the bush in the Turks and Caicos, it's important to be aware of dangerous plants and animals, particularly the Coral Sumac (poisonwood) and Manchineel trees, as they can cause serious rashes when touched.
As is usually the case everywhere for wildlife photography, most animals are more active in the early morning and late afternoon. What you'll see also depends on the season, but many types of birds are permanent residents, such as ospreys, brown pelicans, and egrets. Generally, the winter months here are the most active for birds, and is likewise the humpback whale season.
Photography Services
This page primarily discusses locations and practices for nature and landscape photography. For those seeking portrait and lifestyle photographers, see Portrait and Family Photographers, Wedding Photographers, and Clear Kayak Photo Shoots, which provide information on drone and clear kayak photo shoots.
Drone Use in the Turks and Caicos
As is the case in many countries, there are laws, policies, and restricted areas to be aware of when flying drones in the Turks and Caicos. It is the responsibility of the drone operator to be aware of these prior to flying.
Providenciales
The island of Providenciales is home to the world-famous Grace Bay Beach and most of the resorts and hotels in the Turks and Caicos, and nearly all overnight guests to the county stay on this island.
Away from the developed areas of Providenciales, the best natural landscapes and wildlife are found in the national parks and protected areas off the west coast of Providenciales. Unfortunately, most of these regions tend to be remote and only accessible by unpaved roads that are often in bad condition. If you expect to visit these areas by rental car, it's not a bad idea to get a vehicle with a little more ground clearance than the compacts and small sedans, such as a jeep.
Crime is the greatest concern when venturing into the secluded national parks and nature reserves of Providenciales. Although the number of reported crimes isn't high, the risk definitely exists and is greater in remote areas. See the Crime and Safety page for more information. Hydration is another issue to be aware of. The days can get very hot so be sure to bring plenty of water.
Northwest Point
Northwest Point is home to two protected areas: the extensive Northwest Point Marine National Park, and the smaller Northwest Point Pond Nature Reserve. The coastline of the national park consists of rocky ironshore coastline, beaches of varying sizes, and an area of barrier reef and interior bay. The nature reserve is home to inland salt ponds and red mangrove systems, and is one of the best areas on Providenciales for bird photography.
The rocky coastline (locally called ironshore) around Northwest Point is especially impressive during rough ocean conditions as the Atlantic swells break on the barrier reef quite close to shore.
Northwest Point National Park is accessible by a small dirt one-lane road, but beware of the last half mile along the beach (last 0.8 km) as it's very easy to get stuck in the loose sand.
Frenchman's Creek and Pigeon Pond Nature Reserve
Frenchman's Creek and Pigeon Pond Nature Reserve is the largest section of protected land on Providenciales and covers an area that's roughly two by four miles (3.2 by 6.4 km). Several different types of Turks and Caicos terrain are represented, including mangrove estuaries and wetlands, sandy beaches, coastal cliffs, and inland saline ponds. Unfortunately, access can be difficult as there are few roads leading into the nature reserve, and all are in poor condition. The bulk of the interior and much of the coastline is not feasible for casual visits.
The coastline of Frenchman's Creek is home to quite a lot of wildlife and is the best area for photography of yellow-crowned night herons, green herons, and at times, brown pelicans, which have rookeries in the mangroves. Great blue land crabs are also common at times, yet populations can be impacted by poaching.
The southern half of this nature reserve is a maze of red mangrove and shallow channels. Small lemon sharks, nurse sharks, bonefish, turtles, and conch are plentiful, and the area is great for kayaking or stand-up paddleboarding.
West Harbour Bluff is the southwest point of Providenciales and is also part of the Frenchman's Creek and Pigeon Pond Nature Reserve. A cave, 200-year-old rock inscriptions, and limestone sea cliffs are found on this small peninsula. An unpaved road leads out to West Harbor Bluff, but some stretches can be quite rough for small rental cars. Bonefish Point is also located nearby, and offers some tranquil and scenic vistas.
Chalk Sound National Park
Chalk Sound National Park is a quite scenic shallow three-square mile lagoon that's connected to the ocean by a small channel of water. What makes Chalk Sound special are the hundreds of small rocky islands spaced out in the water. Most of these islands are less than 300 feet (100 meters) across, and they tend to be covered with unique stunted vegetation and small trees. One interesting fact is that Turks and Caicos Islands rock iguanas (Cyclura carinata) still inhabit most of the islands. These large lizards used to live on all of the islands in the Turks and Caicos, yet the introduction of cats and dogs led to their decline on all of the inhabited islands, and now small cays are the only homes left for these rare rock iguanas.
Unfortunately, most of the south and east sides of Chalk Sound have been marred by unattractive development, so views looking towards the ocean from the north side of Chalk Sound really aren't great.
For views and photography of Chalk Sound, it's easiest to drive along the paved residential Chalk Sound Drive. There aren't any dedicated overlooks or viewpoints, but it's possible to see much of the area from the road. Also in this area is the scenic Taylor Bay, which sees less activity than nearby Sapodilla Bay, and is consequently better for beach landscape photography.
North Caicos and Middle Caicos
Excellent photo opportunities and landscapes can be found on North Caicos and Middle Caicos. Both are easily accessed on a day trip from Providenciales, and there is a wealth of undeveloped and lightly developed coastlines to discover.
The spectacular Mudjin Harbour, Conch Bar Caves, Indian Cave, and old plantation ruins are just some of the sights to explore and photograph. Both islands have a significant number of wetland systems which are home to wildlife and birds, with sites such as Flamingo Pond Overlook, and the Ramsar Nature Reserve.
The best accessible photography spots include Mudjin Harbour, Wild Cow Run, Indian Cave, the Crossing Place Trail and Juniper Hole, Bottle Creek Lagoon, and the Haulover Point Ponds.
The Caicos Cays near Providenciales
Between Providenciales and North Caicos are a group of cays that collectively make up one of the top attractions in the Turks and Caicos, and the destination of choice for most of the boat charters in the country. These islands include Little Water Cay, Water Cay, Half Moon Bay, Pine Cay, and Fort George Cay.
Spectacular beaches are found across most of the Caicos Cays, and with the exception of Pine Cay and Parrot Cay, all islands are uninhabited. Little Water Cay, Half Moon Bay, Water Cay, and Pine Cay are connected by beach, so there it's possible to hike quite a bit of beach if desired.
Off Fort George Cay and Pine Cay is Sand Dollar Cove and a collection of sandbars, which are truly breathtaking locations, especially at lower tides, when beautiful sandbars and shallows contrast against the turquoise water.
Little Water Cay and Half Moon Bay are the best places in the country for viewing the endangered Turks and Caicos Islands rock iguana, and these interesting and approachable creatures are fun to photograph.
Also in the Caicos Cays is Mangrove Cay, which is the most popular kayaking and paddleboarding destination in the country. A small tidal channel here shelters turtles, juvenile sharks, stingrays, birds, and more, and close encounters with the wildlife are common.
South Caicos
South Caicos is another incredible place for landscape photography. Outside of the settlement of Cockburn Harbour, there are long stretches of beautiful coast to explore, from the windswept Highlands Bay, to the colorful Plandon Cay Cut. South Caicos isn't as large as some of our other islands, so it's easier to navigate. Both day trips and overnight stays can be considered.
Remote Islands and Cays
West Caicos, a top destination for scuba diving from Providenciales, offers a wealth of outdoor photography opportunities on land as well, from the ruins of Yankee Town, to the wildlife of the Lake Catherine Nature Reserve.
Little Ambergris Cay, Fish Cay, and Long Cay, which are located around South Caicos and Ambergris Cay, offer some of the finest turquoise shallows in the country, and on a good day are truly amazing. These out-of-the-way islands are home to unique wildlife, beaches, and coasts that are endless opportunities.
Between Middle Caicos and South Caicos are a significant number of uninhabited and remote cays, including foremost East Caicos, yet also smaller islands such as Dickish Cay, Joe Grant Cay, Hog Cay, McCartney Cay, and more. As may be expected, there's much to explore and photograph.
Another consideration is the East Bay Islands National Park near Bottle Creek Lagoon and North Caicos. Here, Bay Cay, East Bay Cay, Highas Cay, Greenwich Creek, and other islands and channels hide wildlife, wild beaches, cliff coastlines, and more.
Salt Cay
The small island of Salt Cay is another great place for secluded beaches and interesting landscapes. There isn't much development, and the bygone sea salt and whaling industries have left behind some ruins.
Underwater Photography
It may not come as a surprise that the Turks and Caicos offers excellent underwater photography opportunities. There are many great locations for scuba divers, yet also some for those that want to photograph while snorkeling. Reefs at Smith's Reef, Wiley Cut, and Leeward Reef offer fish, corals, and interesting creatures at shallow depths.
Photography Tours and Excursions
No business in the Turks and Caicos currently offers dedicated photography tours or workshops, yet eco-tours can be a good way to get out to some of the better locations in the Turks and Caicos. At this time, Big Blue Collective of Providenciales is the foremost provider of guided trips through the protected areas of the Caicos Islands. They currently offer hiking and bicycle tours, along with kayaking and stand-up paddleboarding through the wetlands.
There is a very limited selection of photography equipment for sale in the Turks and Caicos. On Providenciales, Business Solutions carries a small range of memory cards and basic cameras. Blue Surf Shop typically stocks a range of GoPros and accessories.
Guides and Remote Excursions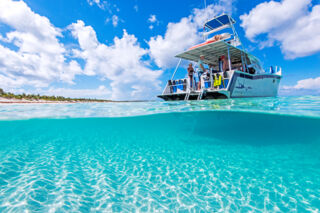 Established in 1997, Big Blue Collective has spearheaded minimum impact ecotourism in the Turks and Caicos. Offers diving, kayaking, kiteboarding, paddleboarding, hiking and bike tours, snorkeling, and charter cruises.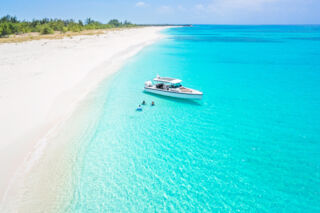 Ocean Frontiers is a boutique and private eco-friendly charter that visits the incredible and secluded locations that make the Turks and Caicos such an amazing destination. Discover spectacular beaches, reefs, and sights aboard a luxurious 37-foot Axopar boat.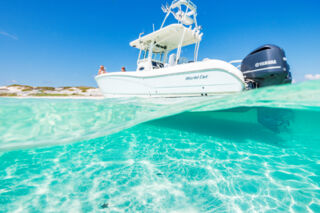 Jedi Charters specializes in unpretentious and off-the-beaten-path boat excursions that are fully customized to guest preferences. Snorkel on beautiful reefs, explore deserted beaches, or experience an exhilarating kite downwind safari across the turquoise waters of the Caicos Islands.