Providenciales
Grocery Stores & Supermarkets
Providenciales is home to the majority of the development in the Turks and Caicos, and consequently supports the best supermarkets and groceries stores in the country.
Most food in the Turks and Caicos is imported directly from Florida, so many brands and items are American products. Due to our luxury tourism market, several stores also carry organic, gluten-free, and specialty foods and international ingredients.
There are some imports from neighboring Caribbean countries as well, so it's possible to find Coca-Cola made with real cane sugar!
The largest supermarket on Providenciales is the central Graceway IGA on Leeward Highway.
The Best Selections of Food
Graceway IGA and Graceway Gourmet tend to offer the best selections of fresh produce, specialty foods, and meats.
Grace Bay and Leeward Locations
There are two convenient groceries shopping options in the tourism districts of Grace Bay and Leeward.
Graceway Gourmet is within walking distance of many of the Grace Bay resorts and accommodations. This store isn't quite as large as the supermarkets in central and Downtown Providenciales, yet it offers a great range of high-quality and organic foods, as well as a selection of prepared foods, sandwiches, salads, and pizza. The prepared food can be served as take-out, or there's an outdoor dining patio with chairs and tables. This store stocks a great selection of wine and alcohol.
The Market is located at the luxury Blue Haven Marina. This small yet select grocery store and deli sells great prepared meals, basic groceries, snacks, and cold drinks.
If you'd prefer a larger selection of items to choose from, the Graceway IGA on Leeward Highway is only a couple of minutes drive away.
Alcohol and Spirits
Unlike in some American states, there's no law against selling alcohol (including wines and liquors) at grocery stores. However, it should be noted that alcohol sales are prohibited on Sundays (it's still possible to purchase alcohol on Sundays in bars and restaurants).
The best price on the island for beer is the local Turk's Head by the case (amber, lager, or IPA) bought at its source at the Turk's Head Brewery.
Drinking Age in Turks and Caicos
The minimum drinking age in the Turks and Caicos is 18. Persons that appear under the age of 21 may be asked to show identification, especially when buying from grocery and liquor stores.
Local Prices
The Turks and Caicos is generally an expensive destination, and our food prices are no exception. Costs tend to be equal to or a little more than what's found in expensive cities such as New York.
The best local food and groceries prices are typically found at the wholesale supermarkets near Downtown Providenciales. These establishments don't typically offer a great selection of perishables, yet the prices on dry goods can't be beat.
Example Prices
Item
Price
Kellogg's Corn Flakes (12oz/340g)
$12.00
Snickers Bar (2oz/59g)
$2.40
Whole Chicken (raw)
$12.00
Cantaloupe
$6.20
Large Pizza (18"/45 cm, take-away)
$22.00
Milk (quart/liter)
$4.25
Pineapple
$6.40
Beer - Guinness (6, 12oz/350ml bottles)
$21.99
Beer - Heineken (6, 12oz/350ml bottles)
$21.99
Beer - Turks Head (6, 12oz/350ml bottles)
$15.00
Coca-Cola (6, 12oz/350ml cans)
$6.00
Cappuccino
$4.50
Bringing Food into the Turks and Caicos
For those wanting to ensure that they have certain products, may need to accommodate dietary restrictions or allergies, or simply want to save on food costs, one option may be to bring food when traveling into the Turks and Caicos.
Many food and drink items may be easily brought into the islands. See Customs Allowances and What to Bring for further information.
Beach Toys and Accessories
Beach toys, chairs, towels, and umbrellas can be found at Graceway Gourmet, yet the island's largest selection is at the expansive Do It Best building center on Leeward Highway.
If you'd like to purchase snorkeling equipment, you'll get the best selection and fitment at one of our local dive and water sports shops.
Accommodation and Villa Provisioning
If you're staying at a rental vacation villa and you'd like to have groceries pre-stocked, it's often possible to have the service handled by either your villa manager, a private chef, or by a concierge service.
Grocery Stores and Supermarkets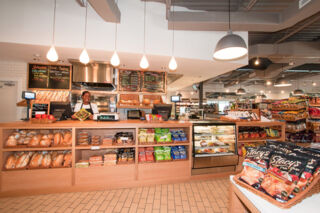 This onsite grocery store and cafe sells a range of produce, cheeses, wine, beer, and other products. It's located at the Blue Haven Resort and Marina in Leeward.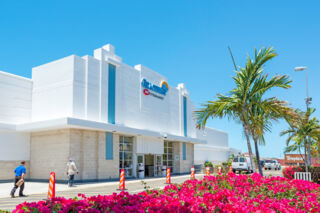 Centrally located on Providenciales at Graceway Plaza on Leeward Highway, this is the largest supermarket in the Turks and Caicos. Along with a full selection of grocery and alcohol, this store also offers prepared food and an onsite coffee shop.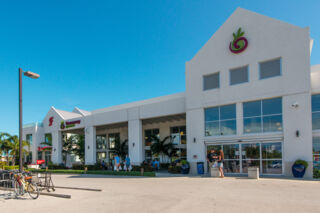 Graceway Gourmet is a mid-sized supermarket with a large selection of prepared hot foods, salads and sandwiches. Tables and chairs are provided outside in the shade for customers.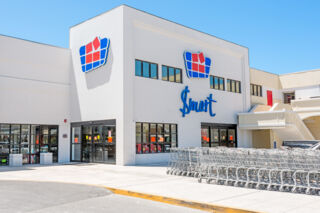 The newest of the Graceway supermarkets, this grocery store is found in central Downtown Providenciales near the Town Center Mall. This was the former 'Island Pride' supermarket, before being acquired and refurbished.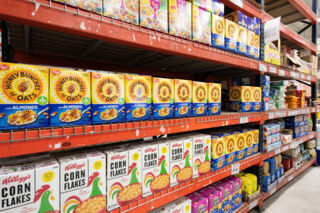 Sunny Foods is a discount and wholesale grocery store, located on South Dock Road in the Five Cays and Downtown area on Providenciales. The store stocks a range of groceries, canned and shelf-stable food, produce, household supplies, and more.
Liquor Stores
The majority of supermarkets also sell beer, wine, and spirits.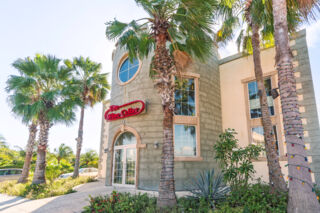 The Wine Cellar - Discount Liquors
Located in central Providenciales on Leeward Highway, this is the largest liquor store on the island. A wide range of international and local varieties is offered, including the best selection of wines in the country.