Turks and Caicos
FBOs & Private Aircraft Information
The Turks and Caicos Islands are a popular destination for private aircraft, with our exceptional beaches, availability of high-quality aviation fuel, and convenient central location in the Caribbean region all being attractions.
The majority of private planes entering the Turks and Caicos land on the island of Providenciales. Whereas most of our main inhabited islands have an airport or airstrip, only Providenciales International Airport (PLS) and Grand Turk JAGS McCartney International Airport (GDT) are international airports.
Immigration and Customs
Aircraft entering the Turks and Caicos must first stop at an international airport or FBO to clear Turks and Caicos immigration and customs.
Providenciales (IATA: PLS, ICAO: MBPV) is the only island with full-service FBOs.
For ground transportation, it's recommended to use one of the local car services.
Filing Flight Plans
The general hours of the Providenciales International Airport are 6 AM to 8 PM. All flight plans must be received by local authorities at least two hours before landing. Special permission must be obtained for arrivals outside of normal operating hours.
A general declaration is required by customs upon arrival.
A passenger manifest will also be needed by immigration if passengers are boarding or disembarking.
A cargo manifest will also be required by both customs and immigration if any items or articles are to be unloaded or loaded.
Fees and Taxes
Prices referenced below are 2023 prices.
Landing Charges
Landing fees range from $10 (up to 4,000-pound aircraft weight) to $30 (up to 10,000 pounds). Aircraft over 10,000 pounds incur a $1.75 - $2.00 charge per 1000 pounds. There are surcharges for landing outside of normal operating hours (6 AM to 8 PM), which are generally a 50% surcharge, up to a $100 minimum fee.
Parking Fees
The first two hours are free, afterwards, prices range on a sliding scale from $5/day (aircraft up to 10,000 pounds) to $15/day (up to 60,000 pounds) to $420/day (over 600,000 pounds). Additional fees may apply, such as for long-term parking (over 30 days).
Passenger Fees
Passengers age two and over must pay a departure tax ($29), Airport User Fee ($3), and Security Fee ($8). Collection and remittance of fees are the responsibility of the aircraft operator.
FBO Fees
FBO charges will be in addition to these fees.
Aircraft Fuel Prices
The FBOs on Providenciales offer JetA and 100LL Avgas. Prices are similar at both FBOs and quite reasonable when compared regionally.
Jet A is about $6.85, and 100LL is around $6.73 (2022) per gallon. Fuelling can be reserved in advance of your arrival.
Aircraft Parking and Hangers
On Providenciales, private and public (when available) aircraft parking is offered. Hanger space in a single hanger is available from Business Aviation. Varying fees apply.
Public parking may be arranged at the other airports in the Turks and Caicos.
Turks and Caicos FBOs
Providenciales has three fixed-base operators (FBO), each with onsite immigration and customs personnel. All have newly-constructed and separate terminal buildings and aprons from the main Providenciales International Airport (PLS).
Amenities at both FBOs include the full range of aircraft services (including fuel, ground power unit (GPU), potable water, and lavatory services), general and crew lounges, catering, and concierge services.
The local facilities offer ground handling for aircraft sizes up to Boeing 757s, and ample aircraft parking is available.
It's easy to arrange taxis, car rentals, a hotel or resort, and dining on Providenciales with the FBOs as they closely work with many local businesses. Car rental agencies are located near each of the FBOs.
The FBOs also have office and business centers with Wi-Fi, printers, phone and fax service, computers, and a conference room. See Telephones, Internet, and Mobile Phones for general communication information in the Turks and Caicos.
Both sites allow and have a facility for pets. See Traveling with Pets.
Transport and Rental Cars
It's easy to arrange private car services, taxis, and rental cars for service and pick up at the FBOs on Providenciales.
Private VIP transport services, which usually use full-size and high-end SUVs such as the Chevrolet Suburban, Cadillac Escalade, and Lincoln Navigator, offer pre-arranged transport.
Nearly all car and jeep rental companies on Providenciales are happy to drop off and pick up vehicles at the FBOs once a prior arrangement is made. There are typically no extra fees incurred, as the rental companies routinely operate nearby at the Providenciales International Airport.
Taxis may be easily scheduled, yet are typically not waiting at the local FBOs.
Fixed-Base Operators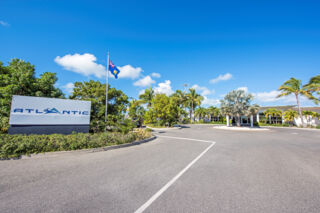 Atlantic Aviation is a full-service private aircraft fixed-base operator, located at the Providenciales International Airport. The facility offers a wide complement of ground and concierge services, has their own modern fuel depot and distribution, and 11 acres of aircraft parking onsite.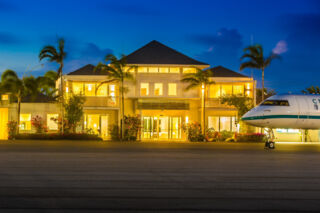 Provo Air Center is an FBO, located on the eastern end of the runway at the Providenciales International Airport. Services include arranging fueling, aircraft parking, and assistance with clearing customs and immigration clearance. Located at Taxiways E and F.
Airports and Airstrips in the Turks and Caicos
Providenciales International Airport (PLS)
Providenciales International Airport (PLS) information. Learn about flight arrivals, departures, check-in times, parking, transport, shops and dining, and more.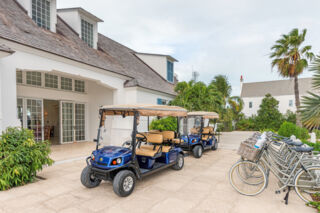 Ambergris Cay Harold Charles Airport (MBAC)
The Ambergris Cay Harold Charles Airport on the island of Ambergris Cay in the Turks and Caicos. Information on the runway, airport facilities, immigration, customs, and ground services.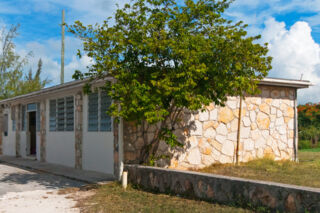 North Caicos Airport (NCA)
This small and quiet airport on North Caicos (NCA) has an asphalt runway. There are no regular scheduled flights that land here.
South Caicos Airport (XSC)
The South Caicos Airport (XSC) is a small regional airport with a 6000-foot (1829 m) asphalt runway. Several scheduled flights from Providenciales and Grand Turk land here each week.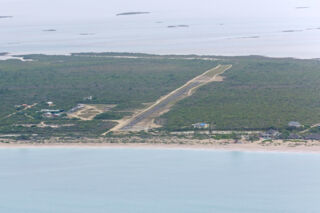 This small private 2800-foot (850-meter) asphalt airstrip is located on the small island of Pine Cay.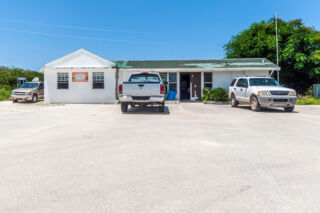 Middle Caicos Airport (MDS)
This closed airport is found near the settlement of Conch Bar and has been inactive since the construction of the North Caicos–Middle Caicos causeway in 2007. The airport has a small terminal building and a 2,461-foot (750 m) paved runway.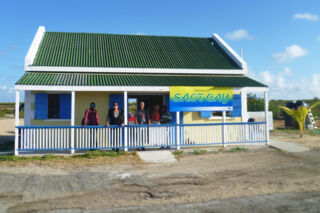 This small single runway and terminal airport is domestic only and services the island of Salt Cay.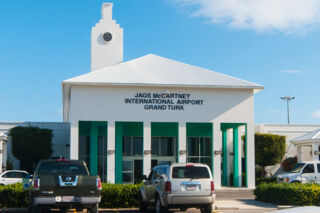 Grand Turk JAGS McCartney International Airport (GDT)
The JAGS McCartney International Airport (GDT) is the only airport on Grand Turk and one of only two international airports in the country.
Transportation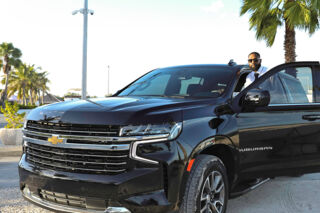 LIV Transport is a professional private car service, based on the island of Providenciales. The company provides punctual transport via elegant and modern full-size luxury SUVs. Services include Providenciales airport transits and general VIP car service for Grace Bay and the island.