Providenciales
DIY Shore Fishing
The simple fact is that shore bottom fishing isn't great on Providenciales, as the few decent locations are difficult to find and access. Bonefishing, however, can be good. Be aware of protected areas where fishing is prohibited.
Providenciales offers several locations for fishing from the beach and coast, and do it yourself (DIY) fishing is a great way to experience the amazing environment of the Turks and Caicos. Keep in mind that although fishing charters can be a little expensive, they almost always provide a much better catch, especially for reef and bottom fishing.
If you DIY fish, it's your responsibility to be aware of and follow local regulations, including possessing a valid fishing license, not fishing in protected areas, and adhering to applicable fishing seasons.
Fishing Locations
It's important to be aware of the protected areas on Providenciales and elsewhere in the Turks and Caicos when fishing. Fishing inside of a protected area can result in fines, and in rare cases, imprisonment.
Bottom Fishing
Unfortunately, there are only a few easily accessible and viable DIY shore fishing spots on Providenciales for bottom and reef fishing, as much of the northern and western coastlines are protected in a nature reserve or national park, where fishing and the gathering of conch and lobster is prohibited. This includes the entirety of Grace Bay Beach, Leeward Beach, and the Bight Beach, and the Turtle Cove and Smith's Reef area.
Heaving Down Rock near Leeward on Providenciales is one of the better legal fishing spots, and the channel here is decent for jacks and snappers. Bird Rock Point nearby is also a consideration, but is more susceptible to adverse wind and chop conditions.
It's legal to fish across much of the southern Caicos Banks side of Providenciales, yet there are very few good locations. The shallow and often turbid waters off the coast simply aren't inviting for populations of the popular eating fishes such as yellowtail, mutton snappers, candy snappers, and jacks.
Bonefishing and Fly-Fishing
The bonefishing and fly-fishing locations on Providenciales are accessible and can be quite decent.
The extensive interior marine ponds of Flamingo Lake and Juba Sound, which are best accessed from the winding and scenic Venetian Road, is the best spot for DIY bonefishing on Providenciales.
Turtle Lake, an inland tidal marine pond connect to the ocean by a shallow channel, is an often overlooked flats fishing spot that offers bonefish and barracuda.
Cheshire Hall Creek, to the west of Turtle Lake and also near Discovery Bay and Downtown is likewise a viable spot, but access to the water is a little more difficult.
On abnormally calm days, the eastern side of Long Bay Beach, and the spots near Sapodilla Bay are also contenders.
It's illegal to fish in the extensive wetlands and shallows of Chalk Sound National Park and the Pigeon Pond and Frenchman's Creek Nature Reserve on the southwest side of Providenciales.
North Caicos and Middle Caicos
If fishing from the coast is an important vacation activity for you, consider visiting the islands of North Caicos and Middle Caicos. These sparsely populated islands are connected by a road causeway, and collectively offer a great number of shore fishing locations for both bonefishing and bottom fishing.
It's possible to visit the two central islands on a day trip from Providenciales, or stay overnight at one of the boutique hotels or vacation rentals.
Fishing Licenses and Seasons
A fishing license is required when fishing in the Turks and Caicos, and can be acquired at the National Environmental Centre in the Bight, and at several of the marinas on the island.
Daily, monthly, and annual licenses are available.
Fishing Seasons
In the Turks and Caicos, Nassau grouper, conch, and spiny lobster may only be caught during their respective open seasons. It is a crime to be in possession of these marine products outside of the season.
The exact opening and closing dates of the fishing seasons vary a little, yet the open season is typically March to November for Nassau grouper, mid-October to mid-July for conch, and mid-August to April for lobster.
Fishing Equipment and Bait
Providenciales offers several small shops which cater to fishing, and it's possible to find lines, hooks, weights, tackle, bait (typically frozen squid), and entry-level casting rods.
Walkin Marine in the Downtown region of Providenciales is the primary source of fishing supplies on Providenciales.
Scooter Bob's Car Rental near Turtle Cove Marina is centrally located, and offers a small selection of bait and equipment.
There's also the small marina shop at Heaving Down Rock Marina (Walkin Marina), which stocks ice, frozen bait squid, and a limited range of fishing supplies.
Local Fishing Supply Shops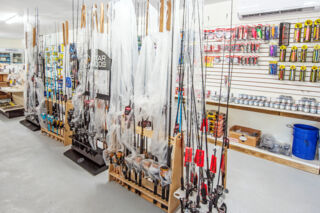 Established on Providenciales for almost thirty years, Walkin Marine is a retail shop for marine, fishing, and boating supplies, and a service center for small to mid-sized watercraft and vessels. Their location is near Downtown and Blue Hills, and about a 10-minute drive from central Grace Bay.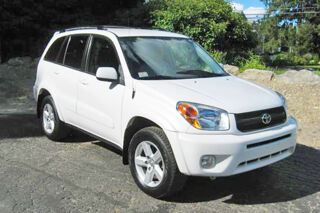 Scooter Bob's had been family-owned and operated since 1984, and is the oldest car rental company in the Turks and Caicos. The rental fleet includes jeeps, cars, vans, trucks, scooters, SUVs, and bicycles. Daily and weekly rental rates available. No-hassle and fast airport pick up–simply walk up and drive away with no wait!