Arriving by Sea to
Providenciales
All operators of pleasure craft sailing to or from the Turks and Caicos are required to complete a SailClear declaration at least 24 hours before arrival or departure.
Providenciales offers a number of marinas, located on both the northern and southern coasts of the island.
All recreational boat operators must complete an online SailClear declaration at least 24 hours before arrival or departure. This is a combined immigration and customs declaration.
Fuel, electricity, and water supply are typically available, as are pilot boats. Blue Haven Marina and Turtle Cove Marina are adjacent to and within easy walking distance of restaurants, shops, and accommodations.
The smaller south coast facilities are a bit more limited in terms of extras services and amenities, yet the slip rates are a bit more favorable, especially for small cruisers.
Marina Entry and Navigation
Before approaching your chosen marina, radio ahead on VHF channel 16, or call, as the navigation into many sites can be tricky, with reef and shallow hazards.
Once in the marina, wait for instructions from local immigration and customs personnel. As is the case for all visitors to the Turks and Caicos, a passport is required for each passenger and crew arriving. See Passports and Visas for detailed information and requirements.
Anchoring and Cruising Our Islands
Anchoring is legal at many sites in the Turks and Caicos. Any vessel over 60 feet (18 m) requires an Anchoring Permit from the Department of Environment and Maritime Affairs (DEMA).
If you'd like to cruise our countless uninhabited and spectacular cays, an extended stay may be granted by the Turks and Caicos Immigration Department. There are so many spectacular sights and beaches to discover throughout the archipelago.
Repairs and Service
General fuel, catering, and provisioning are offered at most marinas.
South Bank Marina is the primary complex for engine and vessel repair and maintenance. This site offers hull and fiberglass repair, has haul-out capabilities for vessels up to 83 tons, and offers storage for boats.
Exploring Providenciales
If you'd like to explore the terrestrial sights and attractions of Providenciales, it's easy to do so. Car rentals and taxis can be arranged for pickup at the marinas. In addition to the spectacular Grace Bay Beach, the island offers grocery stores, an expansive Do It Best building center, and marine supply shops.
See a map of Providenciales, or information on the various regions and districts of the island.
Marinas
South Bank Marina is an upscale marina, port of entry, and vessel service and repair site that caters to yachts and recreational vessels. High-quality fuel is available, as well as a wide range of repair, maintenance, and marine concierge services.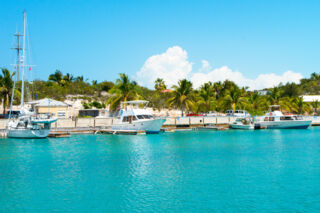 Found at the Turtle Tail area on the central south coast of Providenciales, this small marina offers general fuel, electricity and water services for yachts, and is also home to a few dive and water sports businesses. The onsite Bob's Bar is a great place for refreshments and offers excellent views over the Caicos Banks.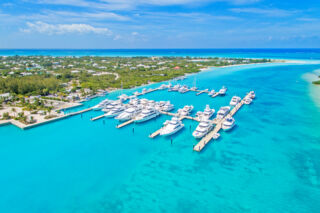 The luxury Blue Haven Marina is located at the amazingly beautiful Leeward Going Through channel off the east end of Providenciales. This extensive complex offers the full range of amenities including fuel, water, and electricity services, restaurants, a market grocery store, and concierge services along with the onsite resort. Yachts up to 220 feet can be accommodated.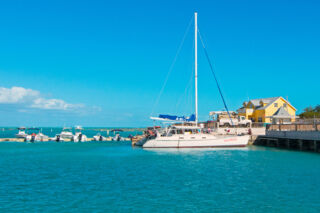 Heaving Down Rock Marina (Walkin Marina)
Heaving Down Rock Marina (also known as Walkin Marina) is located on the eastern coast of Providenciales, and on Leeward Going Through Channel. Several water sports businesses operate from this complex, including the ferry services to North Caicos and South Caicos.
Turtle Cove Marina is a full-service marina that caters to private vessels and local tour companies. The location is the oldest marina on Providenciales, and is home to many restaurants and shops. The broader Turtle Cove area supports low-density and upscale residences and villas.
Transportation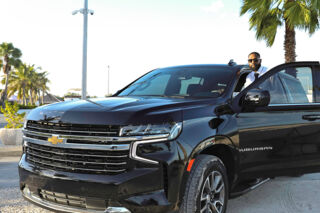 LIV Transport is a professional private car service, based on the island of Providenciales. The company provides punctual transport via elegant and modern full-size luxury SUVs. Services include Providenciales airport transits and general VIP car service for Grace Bay and the island.