Turks and Caicos
Weather & Climate
The Weather Forecast
Temperature:
Wind:
Waves:
Other Units:
Today
Water Temp.
UV Index
Pressure
Hourly Forecast
The "Hot" and "Cool" Seasons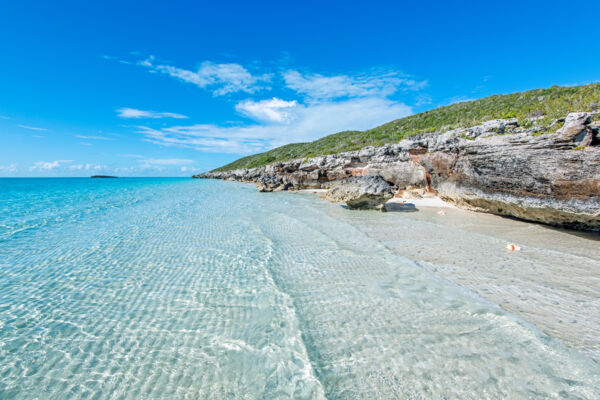 The Turks and Caicos Islands generally experiences pleasant and consistent weather throughout the year.
Compared to northern countries such as the United States, Canada and the United Kingdom, there's far less of a distinction in seasons here.
May to October are considered the "hot" months, and November to April are the "cool" months. Although the average monthly variation between the "hot" and "cool" months is only about 10° F, this difference is definitely noticeable. Depending on personal preference, some may find that activities such as cycling, hiking and exploring historical sites may be a bit too exhausting during the height of summer.
The winter "cool season" months tend to see the greater number of tourist arrivals.
Excepting the occasional passing of a storm, the weather and conditions for activities on and in the water is typically excellent throughout the year.
Temperature - 75° F to 95° (24° C to 35° C)
Average temperature is 80° F (26.6° C).
Average Monthly Temperatures (Fahrenheit)
Rainfall - Average of 33" Annually
There is generally little rainfall throughout the year, and even a drizzle is unlikely during the average visit. It's commonly said that there are 350 days of sunshine throughout the year, and that's a surprisingly accurate statement. April to July tends to have the have the greatest number of showers, but the majority of water comes down at one or two single times during the June to November hurricane season.
Flooding and Heavy Rains
Floods and heavy rains occur almost exclusively during the hurricane season. The Turks and Caicos typically sees one to two of these torrential downpours annually, and some flooding of roads can be expected. The flood water usually subsides within a few days.
Mosquitoes
The Turks and Caicos can have mosquito problems at certain times and at certain areas. Heavy rains (typically once or twice per year) are the primary determining factor on mosquito density.
The islands in the Turks and Caicos are affected to different degrees.
For most of the year, Providenciales does not have any problem. After one of the heavy rains, mosquitoes can be a nuisance for about three weeks.
North Caicos, Middle Caicos, Parrot Cay and Pine Cay tend to have the most serious insect problems. After heavy rain, mosquitoes and sand fleas can persist for weeks due to the larger number of natural fresh water ponds and caves.
Grand Turk, South Caicos and Salt Cay have the least issues with the pests, but can still experience them a bit after rains.
If mosquitoes are bad, wearing long sleeves and using insect repellent will help but may not be completely effective. Areas exposed to the wind, typically the eastern coasts, tend to usually be free of mosquitoes. At night, staying in an air conditioned room can greatly reduce the chance of bites.
Hurricane Season (1 June to 30 November)
The Caribbean hurricane season is officially 1 June to 30 November. However, the majority of hurricanes that have hit the TCI have occured at end of August to mid-September. Hurricane Ike hit 6 Sep 2008, Hurricane Hanna 1 Sep 2008, Hurricane Donna 7 Sep 1960, Hurricane Frances 1 Sep 2004. Hurricane Kate (18 November, 1985) was a major exception.
Whilst it is rare for a serious hurricane to hit the Turks and Caicos Islands, it is much more common for flights to be reschdeulded due to the threat of one.
To avoid your holiday being ruined by a hurricane (or more likely, the chance of one), you may want to scheduling to avoid visiting between August 31 and September 15.
Average Monthly Rainfall (inches)
Water Temperature
The average water temperature fluctuates less than air temperture, ranging from 79 in the winter to 84 in the summer.
Some areas with shallow water, such as Sapodilla Bay or Taylor Bay, can have a water temperature that is several degrees higher than at coasts more exposed to the open ocean.
Average Monthly Water Temperature