Buying a Condominium in the
Turks and Caicos
The Turks and Caicos is fast becoming a very popular destination for investment and vacation properties, and there's a varied selection of condominiums, townhouses, and villas on the market.
As may be expected, the unrivaled Grace Bay Beach is one of the top regions in the country for real estate, and the area supports many of the nation's resorts and condominiums.
Outside of condominiums, there are very few options for buyers looking for Grace Bay property. The selection of undeveloped land and residential homes is very limited, especially for those that are beachfront.
Strata Properties, Fractional Ownership, and Homeowner Associations
Condominium Strata Schemes
Strata schemes are operated by a strata corporation, which is regulated under the Strata Titles Ordinance. This requires all schemes to be registered with the Government and provides basic guidelines and requirements for management and operation.
The strata lot is registered in a manner similar to a normal land parcel, with the notable difference being that it's essentially a three-dimensional piece of real estate (to differentiate it from common areas).
The executive committee of the strata corporation has the power to create and amend bylaws, such as those governing pets. General meeting quorums consist of half the persons entitled to vote. General rules state that if this is not met, the scheduled meeting is postponed exactly one week at the same time and place. If this still isn't met, the people present constitute a quorum.
Timeshares and Fractional Ownership
All timeshare schemes must be registered with the government. The law provides for more than usual regulation, such as requiring the ability to cancel within 7 days of signing, and that all advertising be pre-approved. In addition, transcripts of typical sales pitches must be provided to the government.
Homeowner Associations
Homeowner Associations (HOAs) exist throughout the Turks and Caicos. These are typically enforced through title restrictions (similar to deed restrictions in the US). These could comprise either monetary payments or simple restrictive agreements (RAs), such as a restriction setting height limits or design guidelines.
If you are purchasing land or a house, it's advised to obtain a copy of the title from the Land Registry, where you can see if there are any HOAs or RAs affiliated with the land.
Commonhold and UK Similarities
Local strata titles operate in a similar manner to Commonhold properties in the UK. In addition, whereby leasehold is quite common in the UK for multi-tenant properties, it exists but is relatively rare in the TCI.
Rental Income
Potential rental income from a condo property in Turks and Caicos is another consideration.
Grace Bay Beach is the most popular tourist region in the Turks and Caicos. Generally, units on or near Grace Bay tend to be the easiest to promote. It also helps to have competent and energetic management.
When determining whether purchasing a condo makes financial sense for you, it's important to be aware of all possible fees, commissions, and maintenance costs.
The Turks and Caicos is an expensive destination, and when calculating potential rental income many buyers initially may not consider accommodation tax, service charge, accommodation management and booking website commissions on stays, expensive repair and refitting costs, and other expenses. It's advisable to talk to other long-time rental property owners and short-term rental managers before making the jump.
One important consideration when offering short-term rentals of properties in the Turks and Caicos is tourism tax, which is 12%. The government has recently taken the stance that tourism tax is due on any stays at a property that is offered for rent, with any persons other than the property owner, regardless of whether anything was paid for the stay. This would mean that taxes would be incurred and would have to be paid if friends of the owner visited and no transaction or rental actually occurred.
Islands and Locations in the Turks and Caicos
When considering real estate in the Turks and Caicos, it's important to be aware of our various islands, and what they have to offer. Our smaller and less-populated islands are often overlooked, yet have lower beachfront prices, less development, and more of a laid-back atmosphere.
The islands of South Caicos, Ambergris Cay, Parrot Cay, and Pine Cay all support luxury private residences, many of which are in organized schemes with options for management, amenity sharing, and concierge services.
Grace Bay Beach Condominiums
The world-famous Grace Bay Beach supports many condominiums and condo resorts. In fact, many of the popular beachfront accommodations, although on the surface appearing as a full-time resort, in actuality consist largely of independently owned units.
There are many condo and townhouse options that are inland from Grace Bay Beach, yet are still within easy walking access of the beach and countless dining and shopping choices.
Other Condominium Locations
There are more condo options outside of the Grace Bay area, both on Providenciales and Grand Turk, especially for condos that are not beachfront or oceanfront. As may be expected, property prices are often much lower than those in Grace Bay.
Inland on Providenciales, there's a wide selection of condos, townhouses, and apartment complexes, many of which offer great views or atmosphere.
Leeward, which is a quiet residential region located to the east of Grace Bay, has waterfront properties and a couple of resort-type condominiums, which are complete with pools, concierge, and restaurants.
The Turtle Cove area in central Providenciales supports several complexes, and has the added benefit of featuring some great dining options and an incredible snorkeling reef within easy walking distance.
The grounds of the Royal Turks and Caicos Golf Club is another popular location, with both gated and non-gated townhouse communities.
Grand Turk
The center of government and once the economic powerhouse of the Turks and Caicos, Grand Turk today largely caters to the cruise ship industry and boutique diving vacations. The island features an interesting and quaint British Colonial atmosphere, with the oceanfront Cockburn Town being the center of activity.
Grand Turk offers several small beachfront condominiums, for those looking for more of a laid-back setting than what's found on Providenciales.
Real Estate Developments and Projects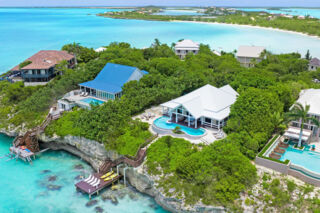 Grace Bay Realty is an affiliate of Forbes Global Properties and is one of the leading real estate brokers in the Turks and Caicos. With more than 20 years' experience in the industry, their team can advise on all aspects of the buying and selling process, and assist clients in finding their perfect property.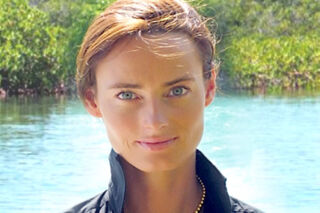 Turks and Caicos Property
Led by owner and broker Bernadette Hunt, Turks and Caicos Property was established in 2000 and is a leading broker of premier real estate, with a wide portfolio of luxury homes, vacant land, and beachfront condos.