South Caicos
Car, Jeep, & Scooter Rentals
South Caicos is a small island, with relatively short distances between points of interest. A rental car will be the best transportation choice for most visitors despite the limited extent of the island due to typically intense heat and lack of other transport options. Cars, jeeps, and scooters are available for rent on the island. Taxi availability is quite limited.
South Caicos is easy to navigate. Nearly all roads in the settlement of Cockburn Harbour are paved. The island is quiet and laid-back, so traffic is light, and quite tame compared to the hectic conditions on Providenciales.
Speed limits on nearly all roads in and around Cockburn Harbour are 20 mph (32 km/h). A few of the longer routes to the northern peninsula are 40 mph (64 km/h), yet slower speeds are advised due to poor road conditions.
Car rental companies typically either deliver vehicles to the ferry port, South Caicos Airport, or accommodation according to customer wishes, or provide customer transport to their location.
Driving Hazards
The roads of South Caicos are generally safe, however, it's important to keep a few things in mind. Foremost is to stay on established roads. The salinas, wetlands, and sandy coastal areas can appear deceptively solid, yet vehicles can get stuck easily.
South Caicos, like the other sea salt industry islands, has feral donkeys. Be aware of them when driving.
Vehicle and tire conditions on rental vehicles may be poor. Be cautious when driving on unpaved roads. Due to the island's limited size, the furthest one can be from a populated area is about 2.5 miles (4 km), yet the imposing sun and heat can make such a hike seem like double the distance!
Car, Jeep, or Scooter?
For those wanting to drive out to the more remote areas of South Caicos, such as the Highlands, Jerry Camp, and Plandon Cay Cut, a jeep or high-clearance vehicle is preferred, as road conditions can be poor.
Scooters and cars work well for the developed region of South Caicos, including accessing the island's hotels and the South Caicos Airport.
Bicycles are available for rent, and are provided to guests staying at some resorts. Bikes can be ideal for short trips between Cockburn Harbour, East Bay Resort, and Ocean & Beach Resort.
Fuel
There are two fuel stations on South Caicos, and both are located near Cockburn Harbour. Gasoline is expensive, at about $7.72 per gallon.
South Caicos Car Rental Companies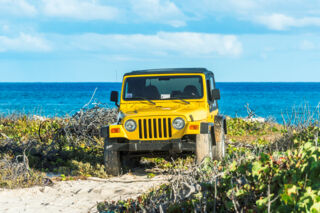 Harbour Adventures Rentals
Harbour Adventures offers jeep and scooter rentals on the island of South Caicos. Their rental shop is located 30 seconds away from the ferry port, and they offer free delivery and drop-off at villas, hotels and resorts.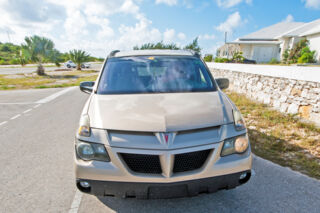 Seaview Supermarket & Rentals
Seaview Supermarket provides car and jeep rentals on the island of South Caicos. Due to the limited number of cars, it's recommended to book in advance to ensure availability.