North Caicos & Middle Caicos
Car & Jeep Rentals
For most, a rental car or jeep is the best way to get around North Caicos and Middle Caicos. This holds true for overnight stays or on a day trip from Providenciales.
There are several car rental agencies on North Caicos, which collectively offer a full range of vehicles, from compact cars, to vans, jeeps, and SUVs.
North Caicos and Middle Caicos do not have any type of public transport, and most distances exceed pleasant walking distance. There are a few taxis on the islands, yet for two people or smaller groups, a rental car will be the least expensive way to get around. However, a taxi can be a great choice if you'd like a guided tour of the islands.
The North Caicos and Middle Caicos Causeway
North Caicos and Middle Caicos are connected by a 1-mile (1.6 km) paved causeway road, which allows both islands to essentially function as one. The causeway is safe, easy to transit, and highly scenic. There's no toll to use the causeway.
What Type of Rental Car is Best?
Compact cars, as may be expected, have lower rental fees than larger vehicles. Cars generally start at $75 per day, Jeeps and mid-sized SUVs rent for around $90, and vans and large SUVs are about $100.
A paved road spans almost the entirety of North Caicos and Middle Caicos, with a route that spans from Sandy Point, to Whitby, Bottle Creek, the causeway, Mudjin Harbour, Conch Bar, Bambarra, and finally, Lorimers. Most beaches, sights, and attractions are either found on a paved road, or only a short distance off it, so most guests won't require a 4x4.
If you'd like to explore the back roads and some of the remote coasts such as Wild Cow Run, Cedar Point, and the Caicos Pine Yard Trail, a high clearance 4x4, such as a Jeep Wrangler or Land Rover Discovery, will offer a faster and more pleasant driving experience. During the wet season, some roads may have puddles that are too deep for small cars to safely cross. These routes include the old King's Road that leads past Conch Bar Caves, and the Mud Hole Pond Road near Pumpkin Bluff.
Reservations and Policies
It's generally simple and quicker to rent a car on North Caicos than it is to do so on Providenciales and at other destinations.
In many cases, you simply call or email your car rental agency of choice, and reserve your vehicle dates. Credit card details are usually not required in advance.
Payments can usually be made with cash or sometimes credit cards when you meet your rental agent to pick up the vehicle. If you want to pay by credit card, we advise confirming so when booking your reservation.
Most rental cars have working air conditioning and automatic transmissions.
Rental Car Pick Up and Drop Off
When you reserve your rental, confirm where you'd like to pick up and drop off your vehicle. Most rental companies will assume that guests will be met at Bellefield Landing, which is where the ferry services land. Both the Caribbean Cruisin' and MV My Girl ferries dock at Bellefield Landing. In the past, Sandy Point Marina was the primary ferry dock, yet vessel routes to the marina are no longer viable.
Gas Stations
All of the working service stations on the two islands are found on North Caicos. There are usually three that are operating, one near the Major Hill settlement, one near Bottle Creek Village, and a Texaco on King's Road near Miss B's Island Restaurant.
It's important to note that car rental companies typically require that you return the rental vehicle with the gas tank full, and that the Texaco near Miss B's Island Restaurant on King's Road is the closest fuel station to the ferry port. That's your last chance to refuel before returning your rental car.
Key Points
Check and note the fuel level. Rentals should typically be returned with the same amount of fuel.
Check and note any vehicle damages with your rental agent before departing.
It's not advisable to drive cars on poor-condition roads and tracks. If you'd like to explore the remote beaches, we recommend going with a 4x4.
Stay on the road. Please do not drive on the beach or on the mud and wetland flats. The damage caused by such driving can last for decades. The mud and tidal flats in the Turks and Caicos tend to have a deceptively hard surface over high salinity silt. It is very easy to get capable 4x4s and jeeps stuck, and it's also very expensive to recover them.
As is the case throughout the Turks and Caicos, we drive on the left.
Car Rental Companies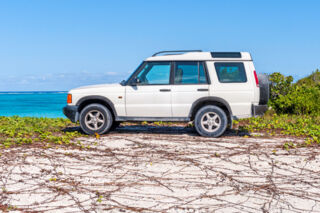 Al's Rent A Car offers car, van, SUV and 4x4 rentals. Free pickup or delivery to Sandy Point Marina, the North Caicos Airport, or your accommodation. Headquartered in Bottle Creek, North Caicos.