Getting to
North Caicos & Middle Caicos
Note: Please be aware that the Providenciales to North Caicos ferry services now arrives at Bellefield Landing. Guests transiting to North Caicos will typically not have to take any action, as car rental companies and taxis will be aware of ferry landing locations and meet guests accordingly.
The sparsely-populated North Caicos and Middle Caicos are the two largest islands in the Turks and Caicos, and are connected by a road causeway. Collectively, these two Garden Islands make up most of the landmass in our archipelago.
The only scheduled public transport between North Caicos and Middle Caicos and any other island in the Turks and Caicos are passenger ferry services that operate between Providenciales and North Caicos. Once on North Caicos, it's possible to drive across both islands due to the causeway.
On this page, you'll find information on the ferry services, which travel between Heaving Down Rock on Providenciales and Bellefield Landing on North Caicos, as well as charter flight services. There are no scheduled domestic or international flights to North Caicos or Middle Caicos.
Middle Caicos may appear to be within easy access of South Caicos, yet it's not. The northern and eastern deep water routes between the islands are typically too rough for most of the small local vessels, and the shallows of the Caicos Banks and Stake Bank directly between the islands prevent the passage of all but the smallest and most specialized flats boats.
Ferries to North Caicos and Middle Caicos
Regular scheduled ferries depart from Heaving Down Rock Marina (Walkin Marina) on Providenciales, and arrive at Bellefield Landing on North Caicos. Once on North Caicos, you are then able to drive across the causeway to Middle Caicos.
The ferry is the easiest and most cost-effective way to get to North and Middle Caicos. This service is offered by two operators and usually runs several times a day, seven days a week. The trip usually takes about thirty minutes each way and tickets can be purchased at the port before departure. Return fares cost $55 (2021). The primary ferry company is Caribbean Cruisin', yet MV My Girl Ferry Service also offers a similar service.
We recommend that you arrive at the marinas at least 30 minutes prior to the scheduled departure times. On most days, reservations are not required. Events such as the Valentine's Day Cup or Crab Fest can see the ferry filled to capacity, so you'll want to arrive early if traveling during such holidays.
The Causeway
A one-mile causeway road connects North and Middle Caicos, so it's easy to travel between both islands, and they largely function as a single island.
Although heavily damaged during two 2008 hurricanes, the causeway has been completely repaired and is now safe and suitable for any vehicle. It's quite a scenic drive when crossing.
The distance from Bellefield Landing, (the far western end of North Caicos and the landing spot for the ferry) to Lorimers (the eastern-most settlement on Middle Caicos) is 32.1 miles (51.6 kilometers).
Flights
There are no scheduled flights to either island.
Since the introduction of the ferry and the construction of the causeway, demand for flights dropped significantly and the route was no longer profitable for local airlines.
North Caicos Airport (NCA) is still open for charter flights and special occasions. The Middle Caicos Airport (MDS) is no longer suitable for commercial aviation.
Flight time from Providenciales International Airport (PLS) is about 10-15 minutes.
Charter flights may make sense for groups of about 6 people or more.
Boats and Yachts
North Caicos has two marinas, both located on the western coast. There are no marinas on Middle Caicos, only very small fishing piers and docks near the causeway landing on the west side of the island, at Conch Bar Beach, and at Lorimers. The docks on Middle Caicos are not feasible for cruising vessels due to shallows and reefs.
North Caicos Marinas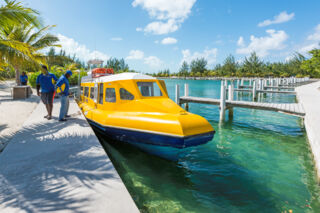 Sandy Point Marina is a small and quiet recreational marina and dock, located on the northwest coast of North Caicos. Onsite is a small takeout café, and limited parking. Beautiful Sandy Point Beach is found close to the marina.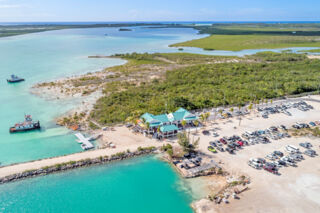 Bellefield Landing is the industrial and fishing port for the islands of North and Middle Caicos. This site is also the landing point for the Providenciales passenger ferries.
Airports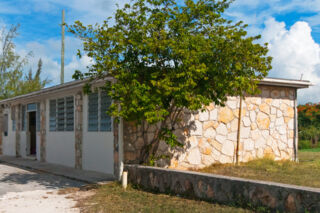 North Caicos Airport (NCA)
This small and quiet airport on North Caicos (NCA) has an asphalt runway. There are no regular scheduled flights that land here.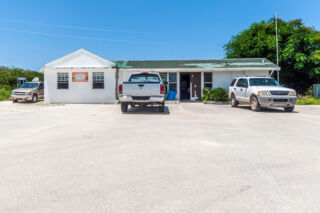 Middle Caicos Airport (MDS)
This closed airport is found near the settlement of Conch Bar and has been inactive since the construction of the North Caicos–Middle Caicos causeway in 2007. The airport has a small terminal building and a 2,461-foot (750 m) paved runway.