Moving to the
Turks & Caicos
The incredible beaches, weather, and marine environment of the Turks and Caicos is very alluring, and many regular visitors think about making the leap to living in our beautiful archipelago. The initial step in planning a move to the Turks and Caicos is understanding and obtaining legal residency status.
Residency and Work Permits
Obtaining residency status for work, retirement, and investment is a subject with many complexities.
A simplified outline is that it is a relatively straight forwarded process for those that have a viable route to a work permit, those that make a significant investment, and in some cases, those that want to retire. Such routes would typically result in either work permits or residency permits.
After sufficient residency time, a permanent residence certificate (PRC) could be pursued, and then British Overseas Territory Citizenship (Turks and Caicos Citizenship).
It is typically difficult for foreigners to obtain Turks and Caicos Islander Status (commonly referred to as 'Belongership'), which is the status that grants the right to vote, hold political office, or own many types of businesses.
Real Estate and Accommodation
There's a wide selection of rental homes, condos, apartments, and properties for sale in the Turks and Caicos. For those that would prefer to build, vacant land, both beachfront and in-land, can be found across all of our main islands. The island of Providenciales is home to a very robust range of construction companies, architects, and material suppliers.
Moving and Logistics
Moving personal effects internationally into the Turks and Caicos may appear to be a daunting task, yet in most cases it isn't as difficult as it may initially appear, especially for those moving from the United States. It is relatively easy to send full container loads from Miami or Fort Lauderdale to the Turks and Caicos via one of the two ocean freight lines that provide service to the islands, and less than container loads (LCL) can be arranged with many of the shipper and freight forwarders that operate in the islands.
Another streamlined option is KR Logistics & Services, which is the primary moving and relocation service provider in the Turks and Caicos, and works with global networks of accredited movers. They are happy to work both residential and commercial clients, and offer services that range from all-inclusive moving that includes packing and unpacking at both the destination and origin, to simply assistance with ocean freight, custom clearance, and transport within the Turks and Caicos.
Cars and Transport
In the past, Jeeps and other 4x4s were always a top vehicle choice, due to the many unpaved and poor quality roads in the Turks and Caicos, and many persons that moved down to the islands would bring in a car. Times have changed, however. More roads are paved in the islands, and there are several car dealerships, so there's a broader range of options now.
In most cases, a Jeep or SUV is a great choice, as it'll be more capable when exploring the unpaved roads or during flooding, yet many roads have been paved, and there are now hybrids, and high-end Tesla and Porsche sport cars driving about in the Turks and Caicos.
If you'd like to bring in your own vehicle, it's a relatively straightforward process, and some of the local freight and logistics businesses can make it even easier. Customs duty, which is calculated as a variable percentage of value based on the type and engine displacement size, will be due upon import.
Additional Considerations
Banking
Scotia Bank, First Caribbean International Bank, and Royal Bank of Canada (RBC) bank have branches on the island of Providenciales, in addition, there are several investment banks and wealth management institutions.
It's typically easy, albeit with minor delays in some cases, to set up personal accounts at local banks.
Charities
Want to help improve the Turks and Caicos? There are several great charities operating in the Turks and Caicos, with mission ranging from social and health issues, to animal welfare and environmental protection.
Moving and Relocation Companies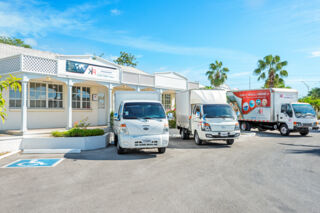 KR Logistics offers professional, insured, and accredited relocation services, moving, customs brokerage, and shipping, and has connections to certified relocation associations across the world. Move to or from the Turks and Caicos with peace of mind.
Learn More
Last reviewed by an editor on 3 January 2021.