Providenciales
Jewelry & Luxury Shopping
Your vacation is the perfect time to find the perfect accessory, art, or fashion. The island of Providenciales is home to many jewelers and boutique goods shops, which carry famous international brands such as Rolex, Breitling, Chanel, Citizen, Gucci, and TAG Heuer.
The selection of luxury goods isn't simply limited to jewelry. Stores carry a wide array of perfumes, spa, and skin care products, locally made organic soaps, and Turks and Caicos salt products.
Nearly all boutique shopping on Providenciales is found at one of two locations: at the shopping plazas in Grace Bay, and at a few duty-free shops in the Providenciales International Airport.
Another advantage of shopping in the Turks and Caicos is that there's no sales tax, VAT, or luxury tax.
Duty-Free
Duty-free shopping is available on Providenciales and at the airport.
Many countries levy significant customs duty fees on luxury items including alcohol and spirits, jewelry, perfume, leather goods, and tobacco products. Duty-free shopping allows visitors to purchase items while on vacation from certain shops which sell goods intended to be exported. These goods are only available to those departing the Turks and Caicos, and are priced lower because import duty fees do not have to be paid by the local shops when bringing the goods into the country. In combination with the customs policies of the visitor's home country, which typically allows for returning residents to bring in a certain amount of items without incurring duty, you're able to take the goods back home at great prices.
Turks and Caicos Jewelry
Over the last decade, the collection of locally made jewelry has greatly expanded.
Conch pearls are the closest thing the Turks and Caicos has to having a national gemstone. These rare and unusual pearls are created in much the same way as the better-known variety from bivalve oysters, but can be found in beautiful shades of pink, peach, and even yellow. It's possible to find jewelry in the Turks and Caicos that is crafted around this treasure, with both international and locally made examples.
Atelys Adrian is famous in the country for her silver jewelry that incorporates the blue-shaded Larimar mineral from the Dominican Republic, sea glass, and personalized designs with stamped inscriptions. There are rings, bracelets, necklaces, and more to choose from.
Another local artisan is Wellington Williams of the Wellington Collection. These jewelry pieces combine iconic Turks and Caicos beach sand (including from Grace Bay Beach), colorful pastel inlays from conch, and Larimar.
Jewelry and Luxury Shops on Providenciales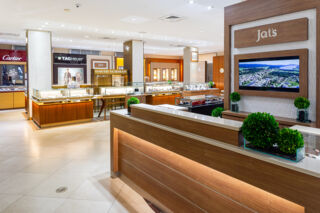 Known for high quality standards, an outstanding selection of international luxury brands, and attentive personalized support, Jai's has been the leader in luxury duty free shopping in the Turks and Caicos Islands for over 20 years.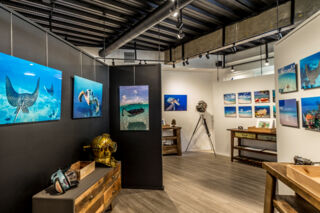 Brilliant Studios Gallery
Explore exquisite fine art prints at the Brilliant Studios Gallery at the Saltmills Plaza in Grace Bay. Brilliant Studios is an award-winning and long-established boutique wedding and portrait studio in the Turks and Caicos, and their new gallery reflects the passion they have in capturing the incredible vistas of the Turks and Caicos.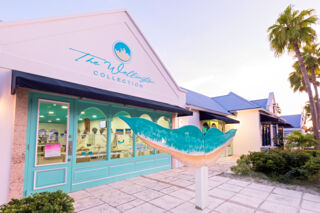 The Wellington Collection
The Wellington Collection is a jewelry, gift, and art shop found in central Grace Bay at the Saltmills Plaza. The store features a wide range of unique handmade souvenirs and paintings, nearly all of which are creations of local artist and jeweler Wellington Williams.