Grand Turk Cruise Visitor Guide
Top Things to Do
The majority of cruise visitors to Grand Turk tend to stay at the beach, pool, shops and facilities of the Grand Turk Cruise Center. Although a large complex, the crowds here may be stifling to some, with the only sights being high prices and the typical chain duty-free shops.
Quite a few different activities are offered through the cruise lines, yet choosing what to do may be difficult for those unfamiliar with Grand Turk.
We believe that the majority of visitors would most enjoy spending their brief stop on Grand Turk in one of the following ways.
Explore Grand Turk on Your Own
Renting scooters, a golf cart or a car and exploring Grand Turk on your own is our recommendation for those who want to get the most out of their brief stay.
Grand Turk is a small island and doesn't have any crime-ridden areas (unlike nearly every other Caribbean cruise destination), so simply explore. Navigation is a breeze, and it's almost impossible to get lost.
You'll be able to visit all of the main sights, including the Turks and Caicos National Museum, the Grand Turk Lighthouse, the local shops, and a number of Grand Turk beaches.
Simply look at our list of attractions and beaches, print maps (your rental may include a map as well), reserve your rental and explore!
Visit Gibbs Cay
Gibbs Cay is a small island off the east coast of Grand Turk. The cay is quite scenic with a beautiful beach and sea oat covered bluffs, but the main attraction is the friendly southern brown stingrays that swim up to meet any visiting boats. These stingrays interact with people and offer an opportunity to experience large wild sea animals close up.
A stop at a nearby reef for snorkeling is usually included and is recommended. The reefs around Gibbs Cay are far superior to what can be easily accessed from the shore on Grand Turk. Sights include plenty of colorful reef fish, sea fans, corals, turtles, and maybe even a small shark!
Although a great place to visit, be aware that this tiny island can get quite busy when cruise ships are in. A visit to Gibbs Cay will typically occupy most or all of your available time on Grand Turk.
Enjoy the Beaches
Grand Turk has some great beaches, and relaxing on the white sand may be the perfect idea of a great day for some. There are four exquisite beaches to discover, and many smaller coasts. Of the four top beaches, two are within walking distance of the Cruise Center: Cruise Center Beach which fronts the cruise center, and Governor's Beach.
The Cruise Center Beach is of course the easiest to access and is quite nice, yet crowds can be overwhelming. Consider walking north up the beach a bit to get some more space to yourself.
A bit wilder, Boaby Rock Point Beach is found south half a mile (.8 km) down the beach from the Cruise Center. Here it's rocky in places and has a bit more seagrass than the Cruise Center Beach, but you'll encounter far fewer people and beachcombing and snorkeling is much better.
Although a bit further away, Governor's Beach is the best beach on the island and doesn't have the crowds that the Cruise Center Beach has. Found less than a mile north up the coast of the Cruise Center, it's unfortunately not possible to walk to this location up the coast from the Cruise Center as the main port for Grand Turk blocks a small section of the beach. Some may consider walking the one mile (1.6 km) each way journey along the road, but be aware that there are no sidewalks and few directional signs.
Cockburn Town Beach has several very nice sections, with the added benefit of being close to the sights, shops and restaurants of old Cockburn Town.
Pillory Beach is a little harder to find than Grand Turk's more popular beaches, yet this sheltered coast offers calm water and some small snorkeling reefs.
An organized beach transport package is offered through the Cruise Center to Governor's Beach. The "Governor's Beach and Snorkeling" package includes bus transport, a bottle of water, and the use of (well-used) snorkeling gear. There really isn't any decent snorkeling at Governor's Beach, and you'll be able to rent a car or scooter for about the same cost, which will allow you to do other things as well.
Go Diving
For those that have the minimum necessary qualifications (PADI Scuba Diver or Open Water Diver, or equivalent), diving can be a great way to spend the day. Grand Turk offers excellent wall diving, with vibrant corals, sponges and sea creatures.
As to be expected, cruise line packages may result in crowded dive boats. Depending on your ship's schedule, you may also have time to do something else on Grand Turk in addition to a two-tank dive.
Local Charter and Tour Companies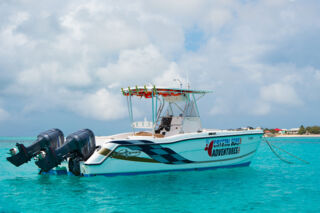 Crystal Seas Adventures offers custom diving, snorkeling, whale watching, and boat charters to the incredible waters, cays, and reefs around Grand Turk. Excursions are suitable and fun for all ages, and include drinks and rum punch, and the use of snorkel gear. Private tours can be created according to guest wishes and desired duration.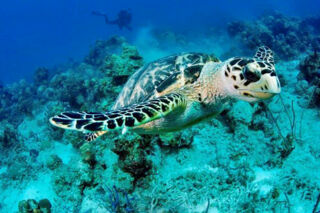 Discover incredible secluded beaches, pristine reefs, and the breathtaking water of the Turks and Caicos with Deep Blue Charters. We'll help plan the perfect private and small group adventure for you. There's so much to experience!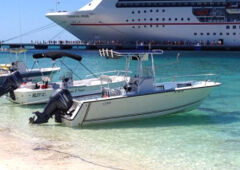 Wet Money Tours & Rentals
Local water sports company specializing in snorkeling tours, whale watching, Gibbs Cay trips and fishing. Car, jeep, golf cart and scooter rentals are also offered. Daily and weekly rates available, with pick up outside the Grand Turk Cruise Center gates.