Turks and Caicos
Telephones, Internet, & Mobile Phones
Most phones will work in the Turks and Caicos without difficulty. Depending on your mobile operator, you may need to activate international roaming before you depart. GSM coverage is provided by the two local telecommunications companies (Flow and Digicel), and Flow provides coverage for CDMA (Verizon and Sprint phones).
You have the option to buy a local pre-paid SIM if you're mostly interested in data access and local calls.
Before You Arrive
Decide if you want to roam or buy a local SIM. If you're roaming, contact your provider to set up international roaming. Sometimes it's enabled by default, but not always.
Buying A Turks and Caicos SIM Card
You'll need an unlocked GSM phone in order to buy a local SIM card. Many new GSM phones are quadband (which means they use all 4 GSM frequencies: 850, 900, 1800, 1900). If you only have a dual band or tri-band phone, choose the appropriate local provider.
You'll need to provide ID in order to purchase a SIM card.
International Dialing
The local area code is +1 (649). Dialling to the Turks and Caicos Islands is the same as dialing to the United States. A local number, such as 946-2801 (the government switchboard) would be dialed as +16499462801. On mobile phones, simply hold the '0' key down to enter a '+'.
Dialling from the Turks and Caicos to a foreign number requires the full international area code.
Internet
Most hotels and villas provide free WiFi wireless internet. Some cafes and restaurants provide free WiFi in addition.
The top-level domain (TLD) for the Turks and Caicos Islands is .tc.
Mobile Internet
Providenciales, Grand Turk, and some areas on the other islands have high-speed 4G coverage. In some less populated and remote areas on the other islands, you'll only be able to access mobile interned via painfully slow EDGE (Enhanced Data rates for GSM Evolution, a 2.5G technology).
Free Facebook Usage
Digicel offers free internet and data for limited Facebook use. If you connect through the app, or by visiting the m.facebook.com site, you'll be presented with an option to connect free (videos and external links are not included). It's recommended that you read and understand the privacy concerns, as certain usage data will be shared with the network (Digicel), and your profile picture, name and other information may be used automatically in adverts on 3rd party websites.
Censorship
There is no censorship of the internet in the Turks and Caicos Islands. The internet censorship programme of the United Kingdom is not implemented in the Turks and Caicos Islands.
Local Telecom Companies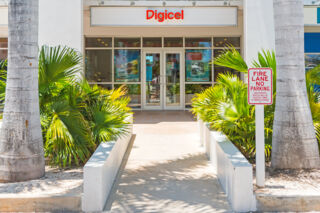 Digicel is one of the two major provider of mobile phone services in the Turks and Caicos. Their main retail headquarters offers mobile phones and pre-paid and post-paid sims. The store is located at the Graceway Plaza on Leeward Highway in central Providenciales.
Learn More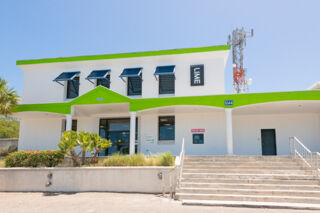 Headquarters of the local Flow telecommunications company, providing fixed line, mobile and internet services. It's predecessor was Cable & Wireless, later renamed Lime, which had a legal 106-year monopoly on telecommunications until 2006.
Learn More
Cellular Coverage Map
Older Phones, Electronics and Equipment such as Cell-Range Extenders
The GSM standard uses 4 main frequencies: 850 MHz, 900 MHz, 1800 MHz and 1900 MHz. New phones are usually quad-band, which means they work on all frequencies. Older phones are typically dual-band or tri-band. Many other types of electronics, such as cell-range extenders, usually only work on two frequencies.
Flow uses the 850 MHz and 1900 MHz frequency, whilst Digicel uses 900 MHz and 1800 MHz. If you have an older phone or specialty equipment, make sure you select the right operator if you're buying a local SIM card.
Fibre Internet
Beginning in early 2018, Digicel began installation of fibre to the home (FTTH) throughout the islands of Providenciales and Grand Turk. The first customers were connected in June 2018 and roll-out continues.
Numbering Plan
All local fixed line services are provided by Flow (formerly Cable and Wireless), and use the prefixes 941-XXXX and 946-XXXX. The remaining number prefixes are cellular services.
Fixed-Line Prefixes

Providenciales
941-3XXX
941-4XXX
941-5XXX
946-4XXX
946-5XXX


North Caicos
946-71XX
946-72XX
946-73XX


Middle Caicos
946-61XX
946-62XX
946-63XX


South Caicos


946-3XXX


Salt Cay
946-68XX
946-69XX


Grand Turk
946-XXXX (any)
941-XXXX (any)


Mobile Prefixes

Flow
231-XXXX
Post-Paid
Flow
232-XXXX
Post-Paid
Flow
239-XXXX
Post-Paid
Flow
241-XXXX
Pre-Paid
Flow
242-XXXX
Pre-Paid
Flow
243-XXXX
Pre-Paid
Flow
244-XXXX
Pre-Paid
Flow
245-XXXX
Pre-Paid
Flow
246-XXXX
Pre-Paid
Flow
247-XXXX
Pre-Paid
Flow (formerly IslandCom)
431-XXXX
Post-Paid
Flow (formerly IslandCom)
432-XXXX
Post-Paid
Flow (formerly IslandCom)
433-XXXX
Post-Paid
Flow (formerly IslandCom)
441-XXXX
Pre-Paid
Flow (formerly IslandCom)
442-XXXX
Pre-Paid
Flow (formerly IslandCom)
443-XXXX
Pre-Paid
Digicel
331-XXXX
Post-Paid
Digicel
332-XXXX
Post-Paid
Digicel
333-XXXX
Post-Paid
Digicel
338-XXXX
Fixed Celluar
Digicel
339-XXXX
Fixed Cellular
Digicel
342-XXXX
Pre-Paid
Digicel
343-XXXX
Pre-Paid
Digicel
344-XXXX
Pre-Paid
Digicel
345-XXXX
Pre-Paid
Digicel
346-XXXX
Pre-Paid
Digicel
347-XXXX
Pre-Paid
Digicel
348-XXXX
Pre-Paid
Useful Links